Unleash Your Potential with MEC Networks Corporation: Your Gateway to Cutting-Edge ICT Solutions and Corporate Excellence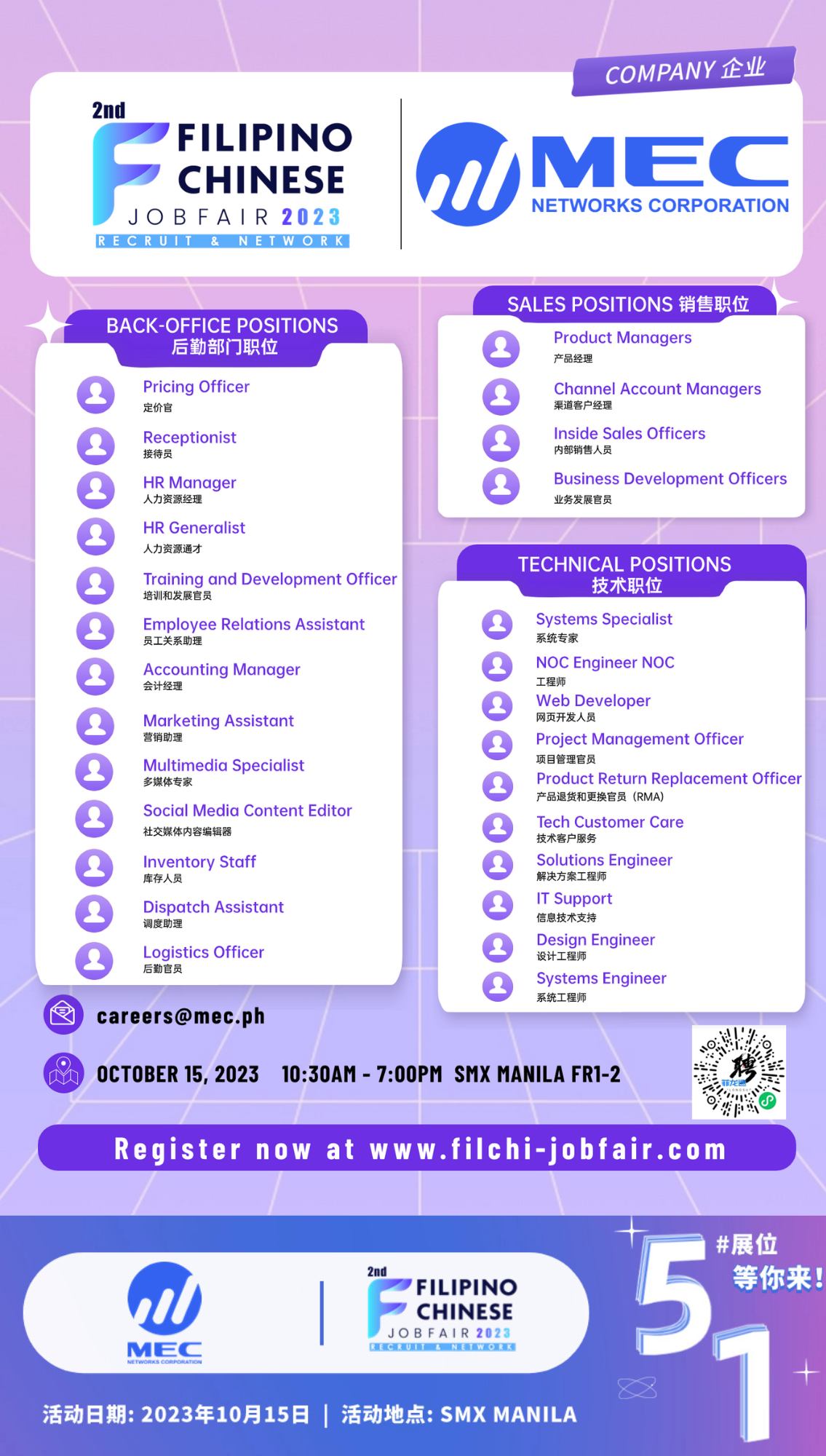 Join MEC Networks Corporation to explore the world of ICT solutions with a touch of corporate excellence. With a rich history dating back to 1995, MEC are proud to be a leading ICT Distributor, representing an extensive portfolio of 30+ globally recognized brands to cater to all your end-to-end technology needs. MEC's team of dedicated experts ensures seamless access to the latest and most innovative products on the market.
Operating from strategic branches in Cubao, Quezon City, and Cebu, our nationwide presence enables us to provide localized support, empowering organizations and individuals from various sectors. As a testament to our commitment to building strong
partnerships, we have garnered more than 800 active partners (resellers) nationwide.
Our mission is to empower organizations and individuals to achieve great things in life through the best technology available. At MEC Networks Corporation, we value partnerships and consider you a part of our esteemed corporate family. Your success is our priority, and we are committed to supporting you in achieving your goals. Our corporate culture encourages collaboration, creativity, and innovation, fostering an environment where growth and learning thrive.
Don't miss the chance to explore exciting opportunities at MEC Networks Corporation. Visit our booth at the Fil-Chi Job Fair and embark on a journey of progress and accomplishment with us. We look forward to meeting you and discussing how, together, we can shape a prosperous future.
招聘岗位
BACK-OFFICE POSITIONS 后勤部门职位:
Pricing Officer 定价官

Receptionist 接待员

HR Manager 人力资源经理

HR Generalist 人力资源通才

Training and Development Officer 培训和发展官员

Employee Relations Assistant 员工关系助理

Accounting Manager 会计经理

Marketing Assistant 营销助理

Multimedia Specialist 多媒体专家

Social Media Content Editor 社交媒体内容编辑器

Inventory Staff 库存人员

Dispatch Assistant 调度助理

Logistics Officer 后勤官员
SALES POSITIONS 销售部门职位:
Product Managers 产品经理

Channel Account Managers 渠道客户经理

Inside Sales Officers 内部销售人员

Business Development Officers 业务发展官员
TECHNICAL POSITIONS 技术部门职位:
Systems Specialist 系统专家

NOC Engineer NOC工程师

Web Developer 网页开发人员

Project Management Officer 项目管理官员

Product Return and Replacement Officer (RMA) 产品退货和更换官员(RMA)

Tech Customer Care 技术客户服务

Solutions Engineer 解决方案工程师

IT Support 信息技术支持

Design Engineer 设计工程师

Systems Engineer 系统工程师
Email: careers@mec.ph
2nd Filipino-Chinese Job Fair in Manila 2023 (菲龙网第二届菲律宾华人线下招聘会) was held last October 15, 2023, if you weren't able to visit your dream company's booth or attend the event, no worries as they are still waiting for your resume through their contact details!
For more details on the job fair, visit https://www.filchi-jobfair.com/
#filchijobfair #filchijobfair2023 #jobsph #RecruitmentPH #JobFairPH #Philippines2023 #hiring #HRPhilippines #菲律宾