Seize the Opportunity: Join CBD Properties Consultancy for a Thriving Real Estate Career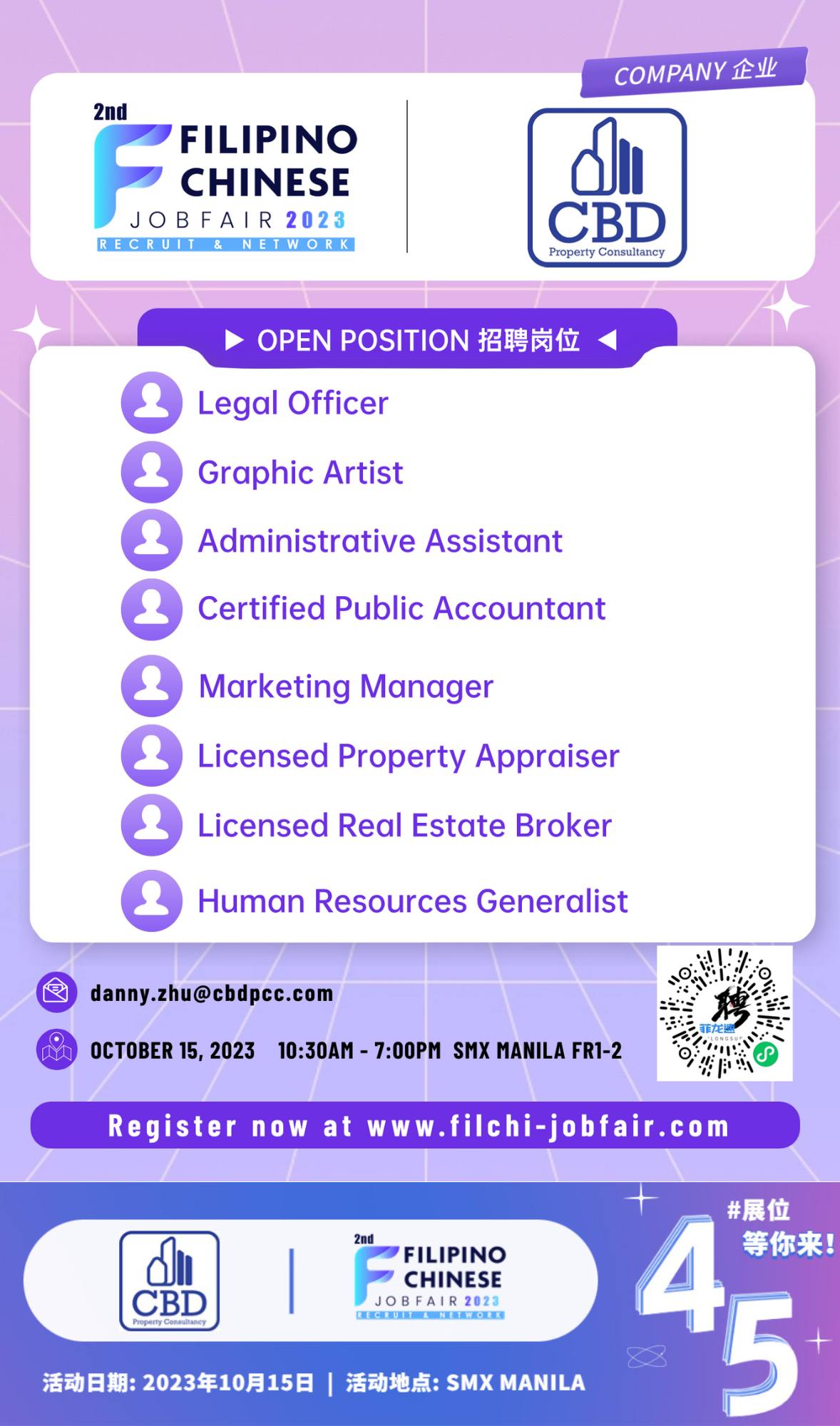 Are you passionate about real estate and ready to make your mark on a bigger stage? Look no further! CBD Properties Consultancy is expanding its presence in the Philippines and is on the lookout for exceptional talents to join our team. As we continue to redefine the real estate industry worldwide, we invite you to be part of our exciting journey.
CBD Properties is currently looking for following talents:
Legal Officer

Graphic Artist

Administrative Assistant

Certified Public Accountant

Marketing Manager

Licensed Property Appraiser

Licensed Real Estate Broker

Human Resources Generalist
If you're eager to grow your career and collaborate with a diverse and innovative team, apply now! Your opportunity to excel in the world of real estate starts here. To apply, kindly send your resume and cover letter to danny.zhu@cbdpcc.com
2nd Filipino-Chinese Job Fair in Manila 2023 (菲龙网第二届菲律宾华人线下招聘会) is the most anticipated event of the year for jobseekers and companies alike! Whether you're looking to switch careers, connect with peers, or look for talents, the Fil-Chi Job Fair is the go-to event for you!
For more details visit https://www.filchi-jobfair.com/
For inquiries and booth bookings:
Email: filchijobfair@flw.ph
Mobile: +63 966 637 6696
#filchijobfair #filchijobfair2023 #jobsph #RecruitmentPH #JobFairPH #Philippines2023 #hiring #HRPhilippines #菲律宾 #Philippines #Manila #MetroManila #Jobs #JobOpportunity #RealEstate #JoinOurTeam