Seal Your Success with Simplex Industrial Corporation: Explore Job Opportunities with the Philippine Leader in Rubber Sealing Products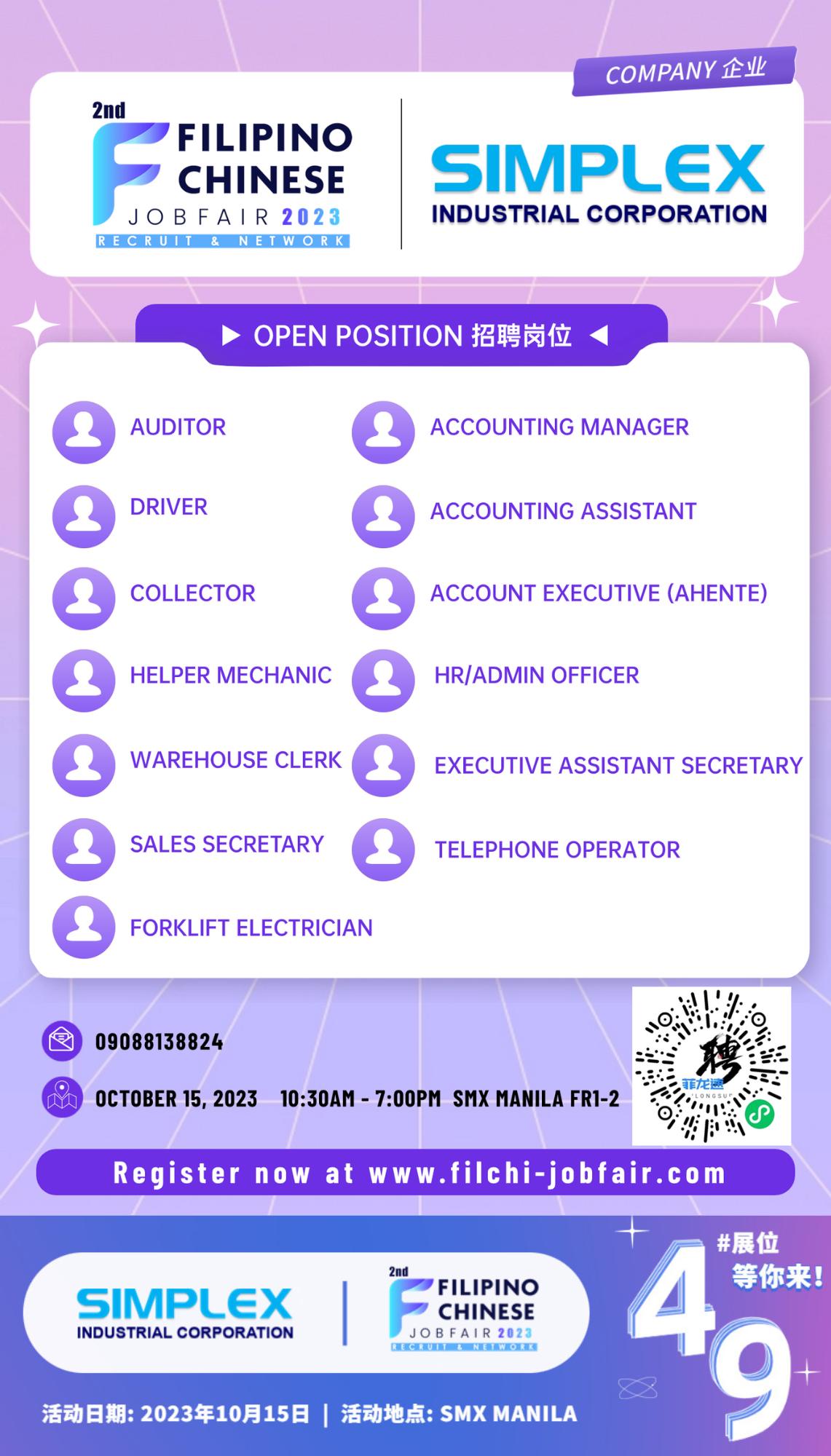 Simplex Industrial Corporation is the Philippines' leading distributor of exclusive ISO 9001/9002 rubber sealing products. As the nation's current market leader, our company continues to strive for excellence by offering the most extensive product selection and expertise to our clients.
招聘岗位 Job Vacancies:
ACCOUNTING MANAGER
ACCOUNTING ASSISTANT
AUDITOR
DRIVER
HR/ADMIN OFFICER
ACCOUNT EXECUTIVE (AHENTE)
COLLECTOR
FORKLIFT ELECTRICIAN
HELPER MECHANIC
SALES SECRETARY
EXECUTIVE ASSISTANT SECRETARY
WAREHOUSE CLERK
TELEPHONE OPERATOR
2nd Filipino-Chinese Job Fair in Manila 2023 (菲龙网第二届菲律宾华人线下招聘会) is the most anticipated event of the year for jobseekers and companies alike! Whether you're looking to switch careers, connect with peers, or look for talents, the Fil-Chi Job Fair is the go-to event for you!
For more details visit https://www.filchi-jobfair.com/
For inquiries and booth bookings:
Email: filchijobfair@flw.ph
Mobile: +63 966 637 6696
#filchijobfair #filchijobfair2023 #jobsph #RecruitmentPH #JobFairPH #Philippines2023 #hiring #HRPhilippines #菲律宾 #Philippines #Manila #MetroManila #Jobs #JobOpportunity #RealEstate #JoinOurTeam