REHub: Revolutionizing Real Estate Services in the Philippines - Join Our Team!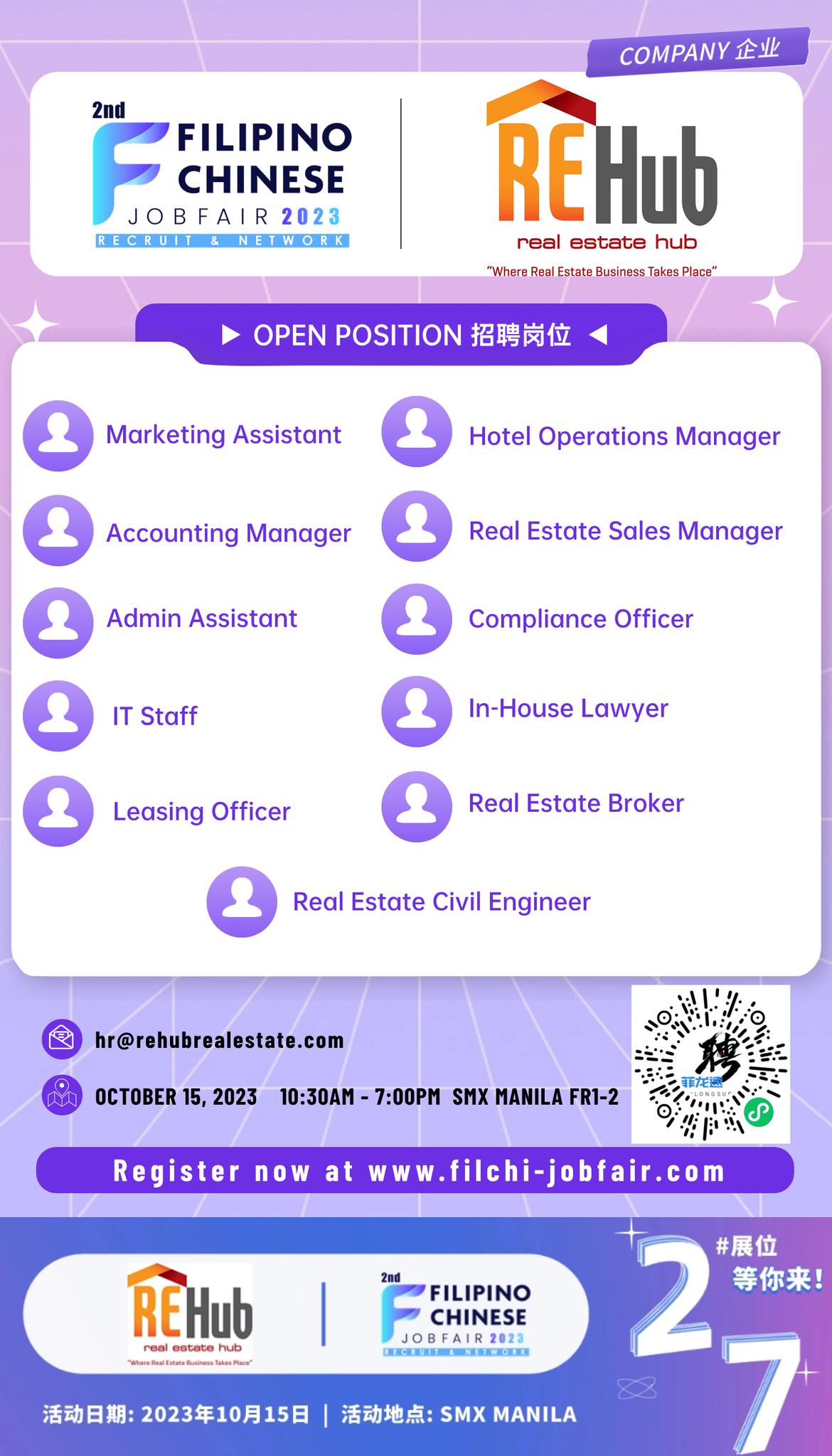 In 12-12-12, the grand launching of Real Estate Hometown Unitage Biz-Centre [REHub] was the Philippines' First Ever Property Hub which converges under one roof the Key Real Estate Services: Brokerage, Appraisal, Consultancy, Property Auction, Property Development &Management and all allied services.
At REHub, Everybody Benefits: Buyers, Sellers, Investors, Educators and Start-Up Entrepreneurs assisted by REHub's Professional Management are assured of Cost-Effective Operational Tools, Cooperative & Integrated Marketing Support Systems – where Consolidated Resources shall be deployed within the highest standards of professional ethics. Our bottom line results are: secured returns on investments to the buyers and maximum income to the sellers. The main objective of this property hub is to centralize all real estate activities, policies, procedures and requirements in order for both parties [the buyer and the seller], would be able to save time as well as their efforts in reaching a well-thought decision. Moreover, this hub provides a reasonable income for the seller and security for the buyer as well.
Our expansion through all market areas will see our team constantly growing and the need for us to provide even better service through dedicated team members. Our motto is to ensure that through growth we maintain our high level of service and experience through continual training and up skilling.
MISSION
We are committed to provide a comprehensive, multi-specialty and diagnostic operational management system for quick real estate solutions with a heart.
VISION
To become a company known as the center or hub in responding to all types of real estate business needs and its allied services where a dynamic real estate facility with a core of committed, dedicated, reliable and globally competitive real estate professionals and employees, which are empowered by the strength of our unity and resources, to deliver quality and cost-effective services to all the real estate industry stakeholders.
OUR SERVICES
General Brokerage, Leasing & Project Selling
Appraisal/Valuation Services
Feasibility study / Master Planning Services
Accounting & Taxation Services which includes Estate Tax Payment / Real Estate Tax Payment
Due Diligence & Legal Services (Draft documents / Review)
Property & Facilities Management
Documentations, Land Conversion & Titling Services
Survey & Other Engineering services
Seminars on Real Estate (for in-house company)
Property Auction
Architecture/Construction/Demolition Services
JOB VACANCY
Hotel Operations Manager

Marketing Assistant

Accounting Manager

Real Estate Sales Manager

Compliance Officer

Admin Assistant

In-House Lawyer

IT Staff

Real Estate Broker
10 Leasing Officer
Real Estate Civil Engineer
Email: hr@rehubrealestate.com
2nd Filipino-Chinese Job Fair in Manila 2023 (菲龙网第二届菲律宾华人线下招聘会) was held last October 15, 2023, if you weren't able to visit your dream company's booth or attend the event, no worries as they are still waiting for your resume through their contact details!
For more details on the job fair, visit https://www.filchi-jobfair.com/
#filchijobfair #filchijobfair2023 #jobsph #RecruitmentPH #JobFairPH #Philippines2023 #hiring #HRPhilippines #菲律宾 #Philippines #Manila #MetroManila #Jobs #JobOpportunity #RealEstate #JoinOurTeam