Join the Energy Revolution with Shell in the Philippines: Fueling Progress, Powering Your Career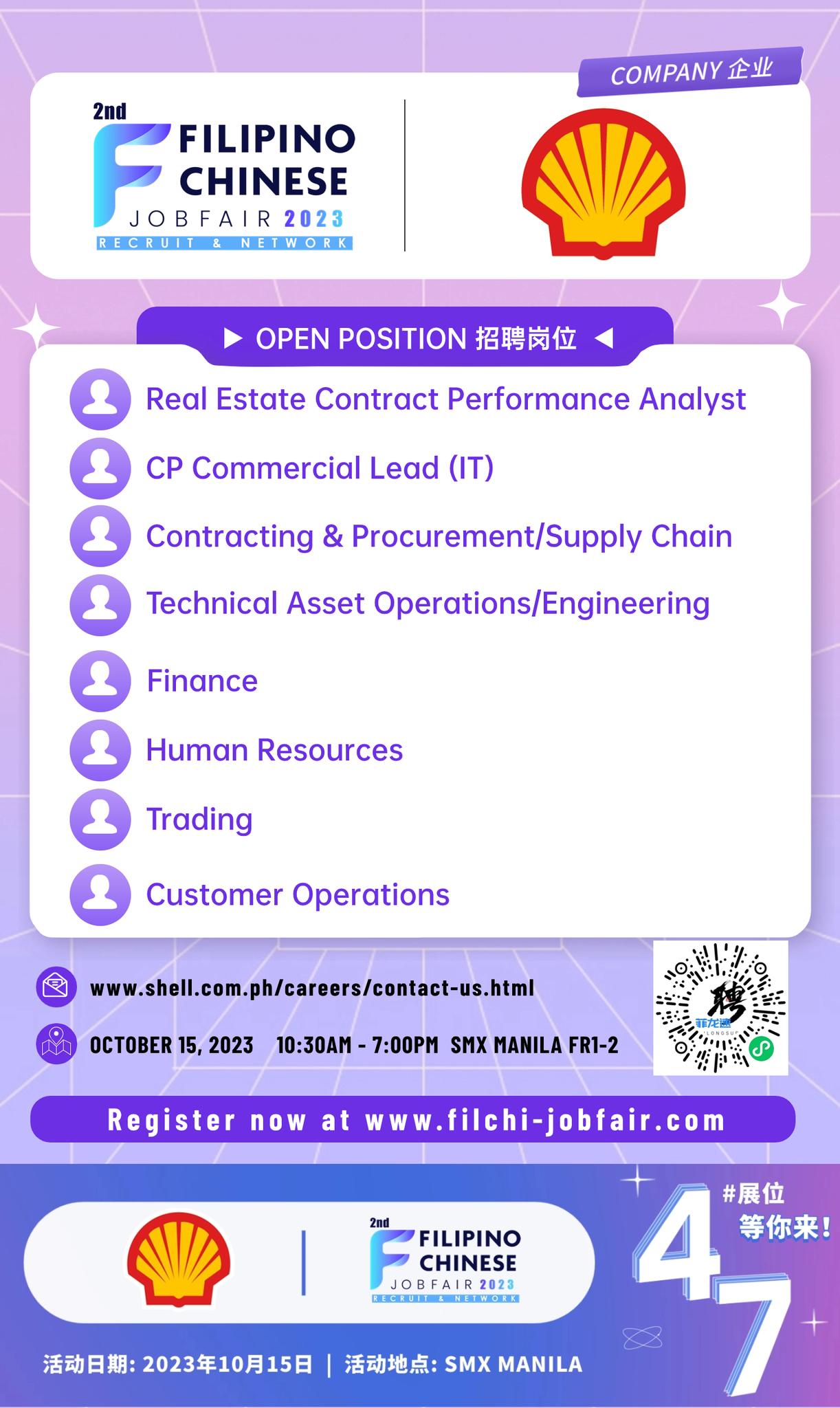 You can be a part of the future of energy. Together at Shell, we are transitioning to become a net-zero emissions business while providing the energy that people around the world need today. At Shell, you progress as we work on the energy transition together.
In the Philippines, our entities are Shell Pilipinas Corporation (SPC), Shell Energy Philippines (SEPH), and Shell Business Operations (SBO) – these make up the Shell Companies in the Philippines (SciP).
Shell Business Operations (SBO) Manila is focused on driving excellent corporate performance in Finance, Human Resource, Customer Service, Technical Asset Operations, and Contracting and Procurement (Supply Chain). We enable Shell to operate in a global-competitive and ever-changing business environment.
Recruitment
A. Mandarin Speaking roles:
Real Estate Contract Performance Analyst
CP Commercial Lead (IT)
B. Other open roles:
Contracting & Procurement/Supply Chain
Technical Asset Operations/Engineering
Finance
Human Resources
Trading
Customer Operations
Contact us:
www.shell.com.ph/careers/contact-us.html
2nd Filipino-Chinese Job Fair in Manila 2023 (菲龙网第二届菲律宾华人线下招聘会) was held last October 15, 2023, if you weren't able to visit your dream company's booth or attend the event, no worries as they are still waiting for your resume through their contact details!
For more details on the job fair, visit https://www.filchi-jobfair.com/
#filchijobfair #filchijobfair2023 #jobsph #RecruitmentPH #JobFairPH #Philippines2023 #hiring #HRPhilippines #菲律宾 #Philippines #Manila #MetroManila #Jobs #JobOpportunity #RealEstate #JoinOurTeam