Empower Your Career with BDO Life: Join the Pinnacle of Philippines' Banking and Insurance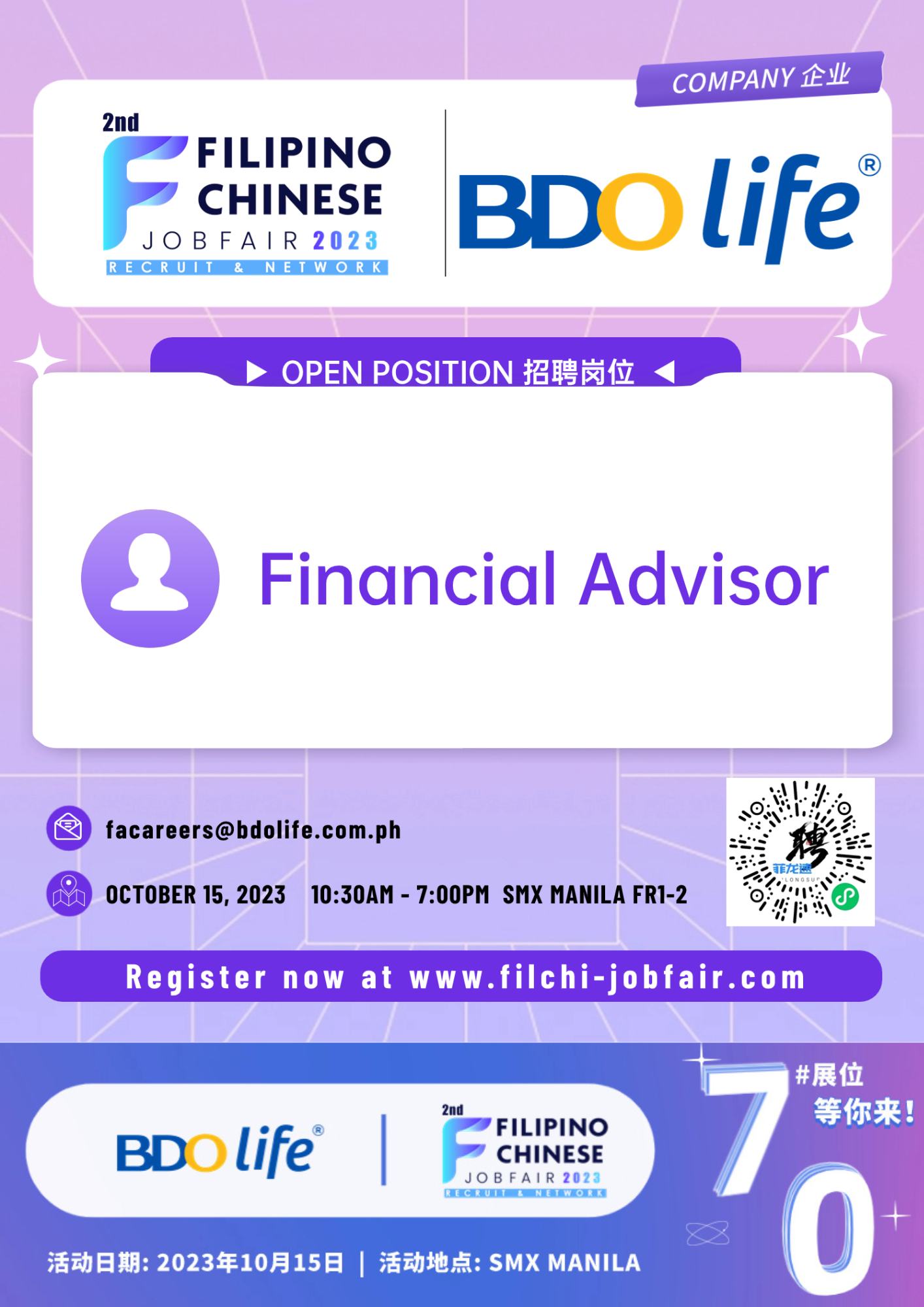 A wholly-owned Life Insurance subsidiary of BDO Unibank, Inc. BDO is the Philippines' largest bank with total assets of P2.07 Tn (USD45 Bn).
A full-service universal bank with one of the widest distribution networks consisting of 1,057 operating branches and over 3,300 ATMs nationwide. Part of the SM Group, one of the country's largest conglomerates.
BDO Life Financial Advisors are present in most BDO branches nationwide. BDO has the widest market reach which makes BDO Life services accessible. BDO's branch network is complemented by over 3,300 ATMs and electronic channels.
List of Job Vacancies
Financial Advisor
Responsible for providing financial planning services to a cluster of BDO branches using life insurance products and services of BDO Life.
Bachelor's Degree holder
Candidates who have a positive academic and / or work track record
Candidates who are ready to be trained and mentored to be an expert in the field
Candidates who are confident and comfortable in building and managing relationship
Candidates who have great communication skills and sincerely enjoy talking to different people everyday
【Email】facareers@bdolife.com.ph
2nd Filipino-Chinese Job Fair in Manila 2023 (菲龙网第二届菲律宾华人线下招聘会) is the most anticipated event of the year for jobseekers and companies alike! Whether you're looking to switch careers, connect with peers, or look for talents, the Fil-Chi Job Fair is the go-to event for you!
For more details visit https://www.filchi-jobfair.com/
For inquiries and booth bookings:
Email: filchijobfair@flw.ph
Mobile: +63 966 637 6696
#filchijobfair #filchijobfair2023 #jobsph #RecruitmentPH #JobFairPH #Philippines2023 #hiring #HRPhilippines #菲律宾 #Philippines #Manila #MetroManila #Jobs #JobOpportunity #RealEstate #JoinOurTeam