Embark on a Journey with J-K Network: The Premier Bilingual Job Provider in the Philippines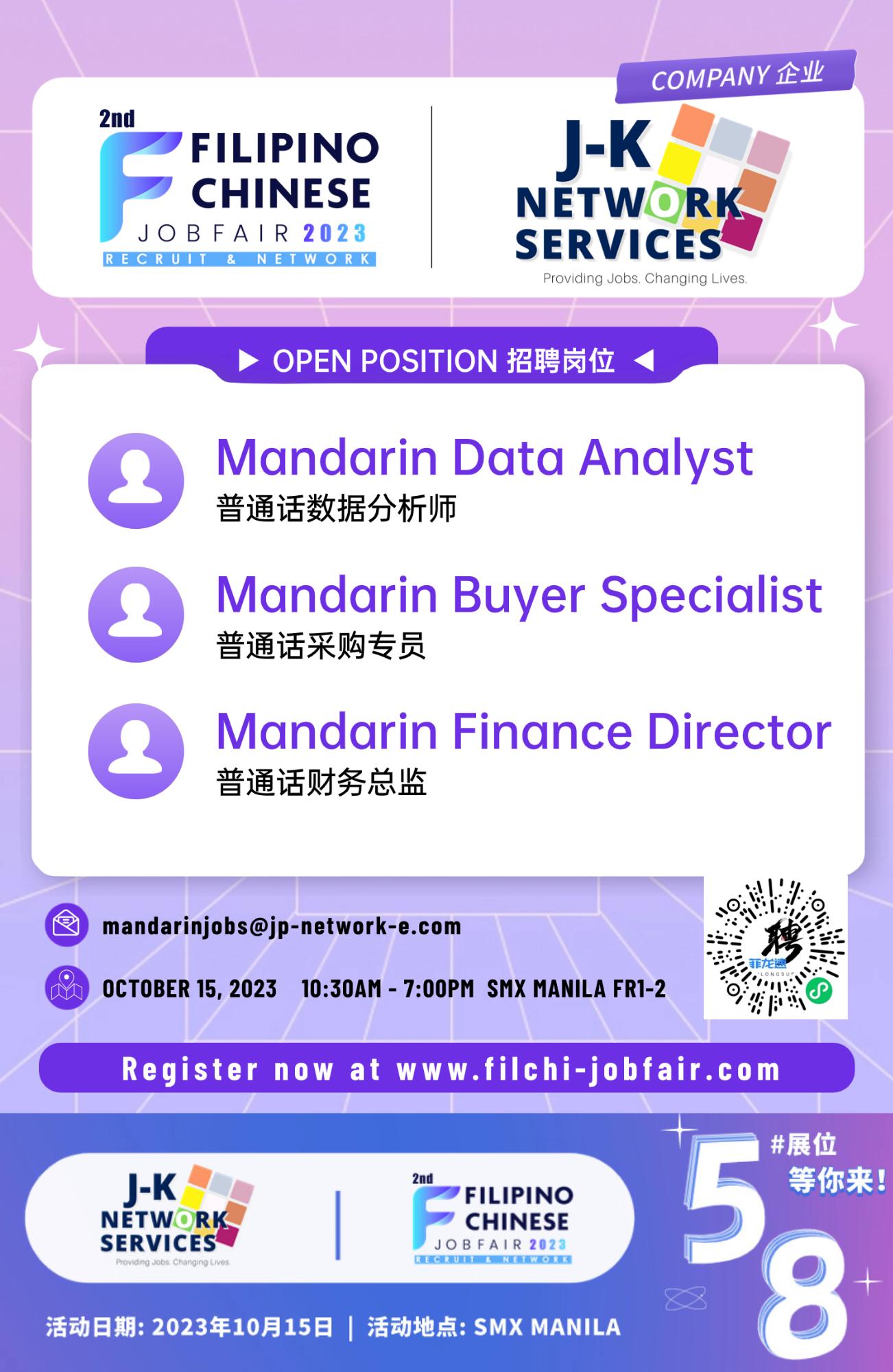 J-K Network is a multi-awarded multilingual Recruitment company in the Philippines started the operation in 2013. We have been awarded as Top Bilingual Provider by the world's biggest firm. Partnering with most of fortune 500 global companies and having a total of 800 client companies across the country. We have given 10,000 jobs to Applicants of Chinese, Taiwanese, Hong Kong national or any Mandarin speakers whether foreigner or Filipino Chinese, Ex Taiwan or Filipino who studied Mandarin - making it the Number 1 preferred Bilingual partner in the country.
This job hunting service is for free and guaranteed, no salary deduction because we are not an agency! We are giving jobs to applicants for free, No placement fee application and work agreement is between applicant and the client firm, This is for direct hire. We have 200+ Job Openings monthly for Mandarin speakers of all ages, experiences and all nationalities. We have client companies that process any working visa, accommodation, Bonus and meals daily. Our salary range offer is between P 80,000 to P 130,000 depending on work experience.
招聘岗位 / Job Vacancies:
Mandarin Data Analyst 普通话数据分析师

Mandarin Buyer Specialist 普通话采购专员

Mandarin Finance Director 普通话财务总监
Email: mandarinjobs@jp-network-e.com
2nd Filipino-Chinese Job Fair in Manila 2023 (菲龙网第二届菲律宾华人线下招聘会) is the most anticipated event of the year for jobseekers and companies alike! Whether you're looking to switch careers, connect with peers, or look for talents, the Fil-Chi Job Fair is the go-to event for you!
For more details visit https://www.filchi-jobfair.com/
For inquiries and booth bookings:
Email: filchijobfair@flw.ph
Mobile: +63 966 637 6696
#filchijobfair #filchijobfair2023 #jobsph #RecruitmentPH #JobFairPH #Philippines2023 #hiring #HRPhilippines #菲律宾 #Philippines #Manila #MetroManila #Jobs #JobOpportunity #RealEstate #JoinOurTeam