Discover Your SEO Success Story: Job Openings at SEO Hacker, the Philippines' Premier SEO Company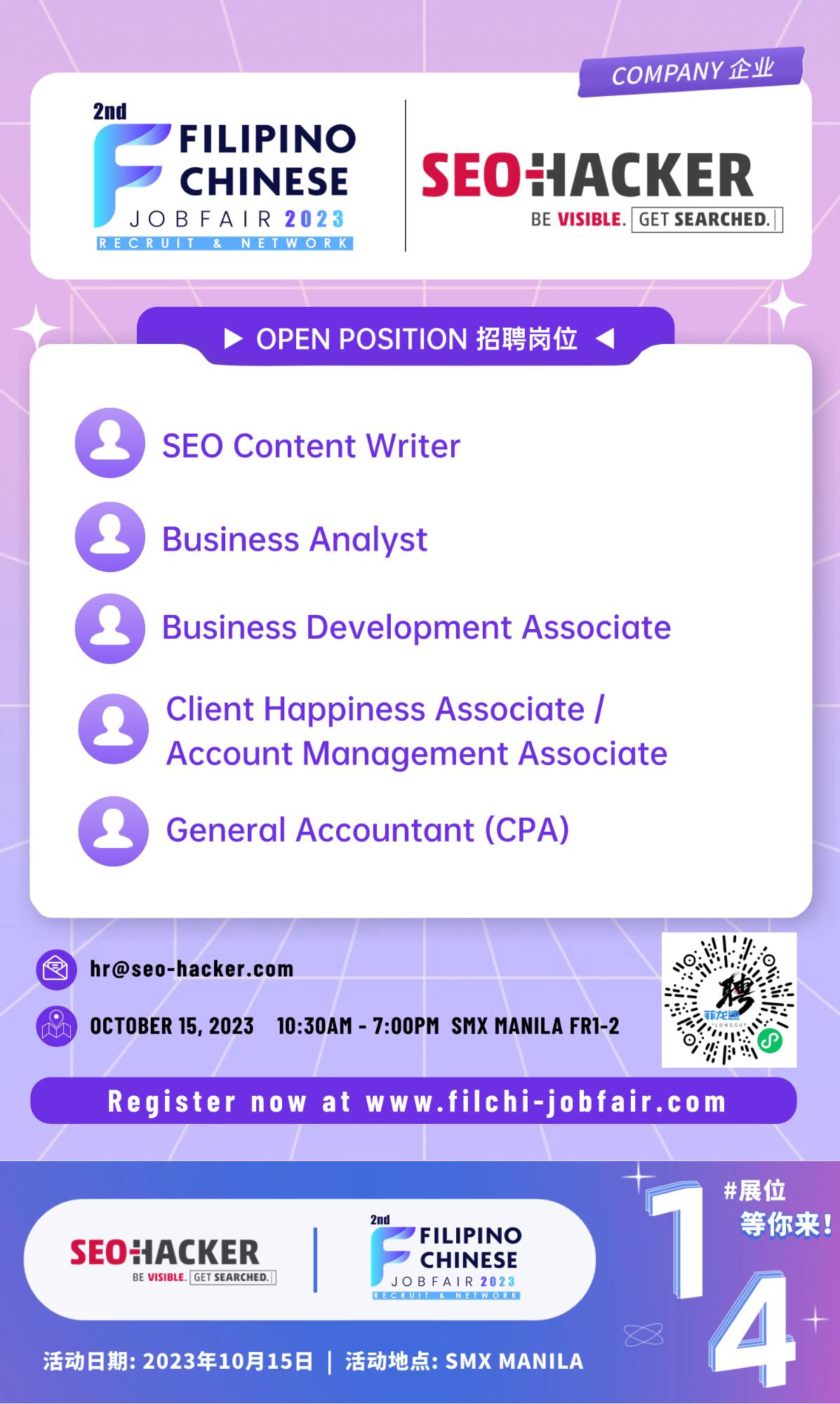 SEO Hacker is the #1 SEO services company in the Philippines. We provide high touch, effective and ethical SEO solutions to both local and international clients. Our team of SEO experts specializes in helping businesses improve their search engine rankings, increase organic traffic to their websites, and bring passive hot leads and conversions. Whether you're a small business owner or a large corporation, we can tailor-fit our SEO services so that you can win in your industry and generate three to five times your current annual revenue.
At SEO Hacker, we guarantee first-page rankings on Google and believe in delivering measurable results. We follow ethical and effective practices aligned with Google's guidelines, using a data-driven approach and staying up-to-date with the latest industry developments to maximize the effectiveness of our SEO strategies.
Our SEO services go beyond just SEO. We also provide FREE website hosting, maintenance, updates, site speed, site security, re-design, re-coding, content writing, graphic designs creation, social media marketing, and other digital marketing solutions to help your business thrive in the online world. At SEO Hacker, we are committed to going the extra mile (we literally do!) to make our clients happy. Contact us today and let's take your online presence to the next level and generate revenue like never before!
招聘岗位 / Job Vacancies:
SEO Content Writer

Business Development Associate

Multimedia Designer

Client Happiness Associate / Account Management Associate

General Accountant (CPA)
Email: hr@seo-hacker.com
2nd Filipino-Chinese Job Fair in Manila 2023 (菲龙网第二届菲律宾华人线下招聘会) is the most anticipated event of the year for jobseekers and companies alike! Whether you're looking to switch careers, connect with peers, or look for talents, the Fil-Chi Job Fair is the go-to event for you!
For more details visit https://www.filchi-jobfair.com/
For inquiries and booth bookings:
Email: filchijobfair@flw.ph
Mobile: +63 966 637 6696
#filchijobfair #filchijobfair2023 #jobsph #RecruitmentPH #JobFairPH #Philippines2023 #hiring #HRPhilippines #菲律宾#Philippines #Manila #MetroManila #Jobs #JobOpportunity #RealEstate #JoinOurTeam