Design Your Career at Modernbrands Inc.: Elevate Your Path in Luxury Home Solutions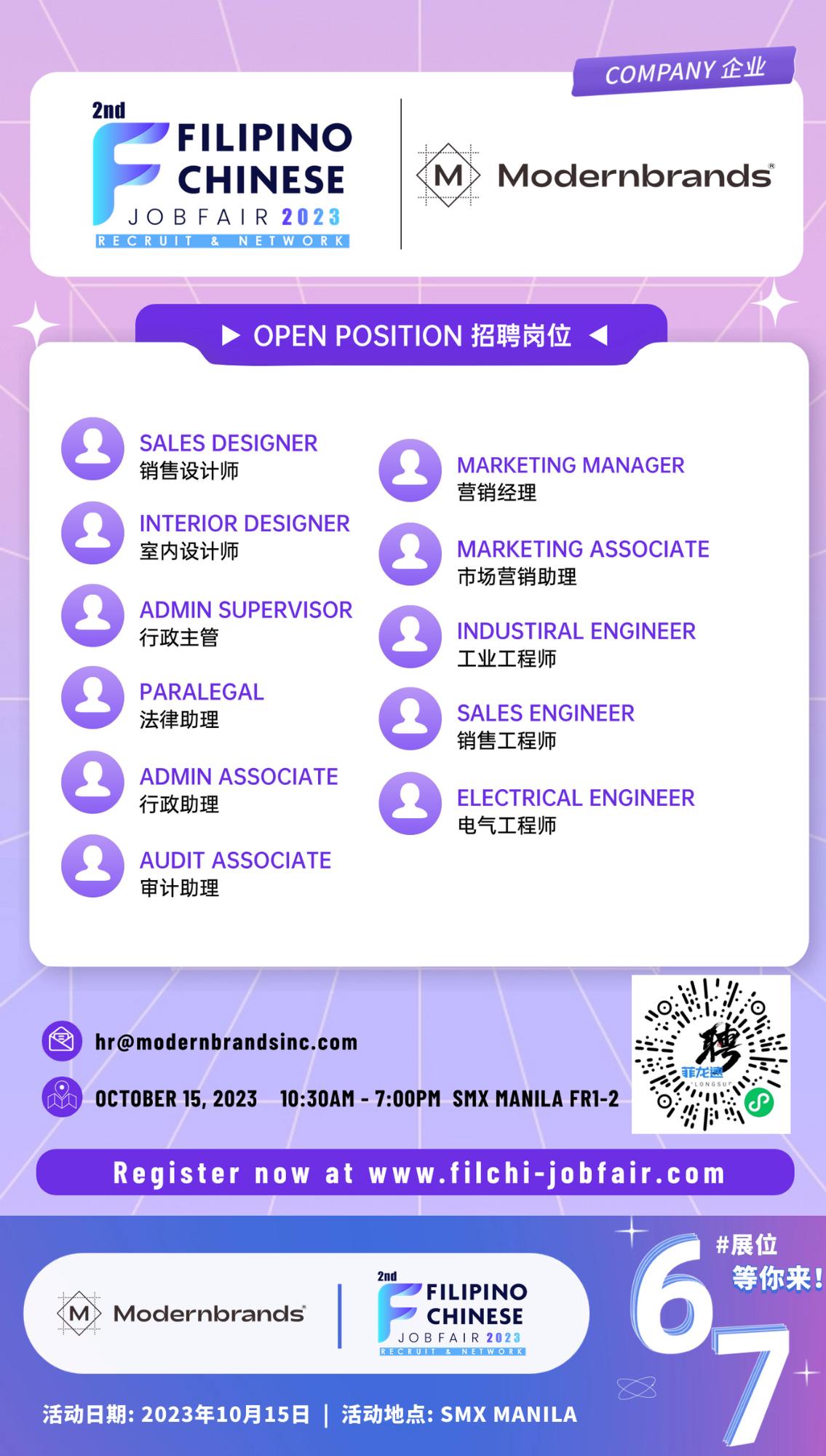 Modernbrands Inc. is a has been a premium source of luxury furniture for Italian kitchen cabinets, Italian wardrobes, walk-in closets, sliding doors, flooring, and furniture in Manila for more than a decade. It is a home solutions company that was founded in 2013. The company takes pride in offering a distinctive collection of home furniture that stands out from the standard options available in the market. The company's main objective is to provide Filipinos with unique, hard to find and sophisticated interior solutions.
Modernbrands Inc. strives to meet its goal by offering a diverse range of high-quality and practical furniture options that cater to the unique lifestyles and needs of all its clients. The company is committed to delivering outstanding customer service that ensures customer satisfaction with every purchase. With a focus on providing solutions to their customers, Modernbrands Inc. aims to be a go-to source for home furniture solutions.
招聘岗位 / Job Vacancies:
SALES ARCHITECT/ SALES DESIGNER 销售设计师

INTERIOR DESIGNER 室内设计师

MARKETING ASSOCIATE 市场营销助理

MARKETING MANAGER 营销经理

ADMIN ASSOCIATE 行政助理

AUDIT ASSOCIATE 审计助理

PARALEGAL 法律助理

ADMIN SUPERVISOR 行政主管

INDUSTIRAL ENGINEER 工业工程师

SALES ENGINEER 销售工程师

ELECTRICAL ENGINEER 电气工程师
Email: hr@modernbrandsinc.com
2nd Filipino-Chinese Job Fair in Manila 2023 (菲龙网第二届菲律宾华人线下招聘会) is the most anticipated event of the year for jobseekers and companies alike! Whether you're looking to switch careers, connect with peers, or look for talents, the Fil-Chi Job Fair is the go-to event for you!
For more details visit https://www.filchi-jobfair.com/
For inquiries and booth bookings:
Email: filchijobfair@flw.ph
Mobile: +63 966 637 6696
#filchijobfair #filchijobfair2023 #jobsph #RecruitmentPH #JobFairPH #Philippines2023 #hiring #HRPhilippines #菲律宾 #Philippines #Manila #MetroManila #Jobs #JobOpportunity #RealEstate #JoinOurTeam