Crafting Success: Embark on a Colorful Career Journey with Time Ceramic Philippines Ltd.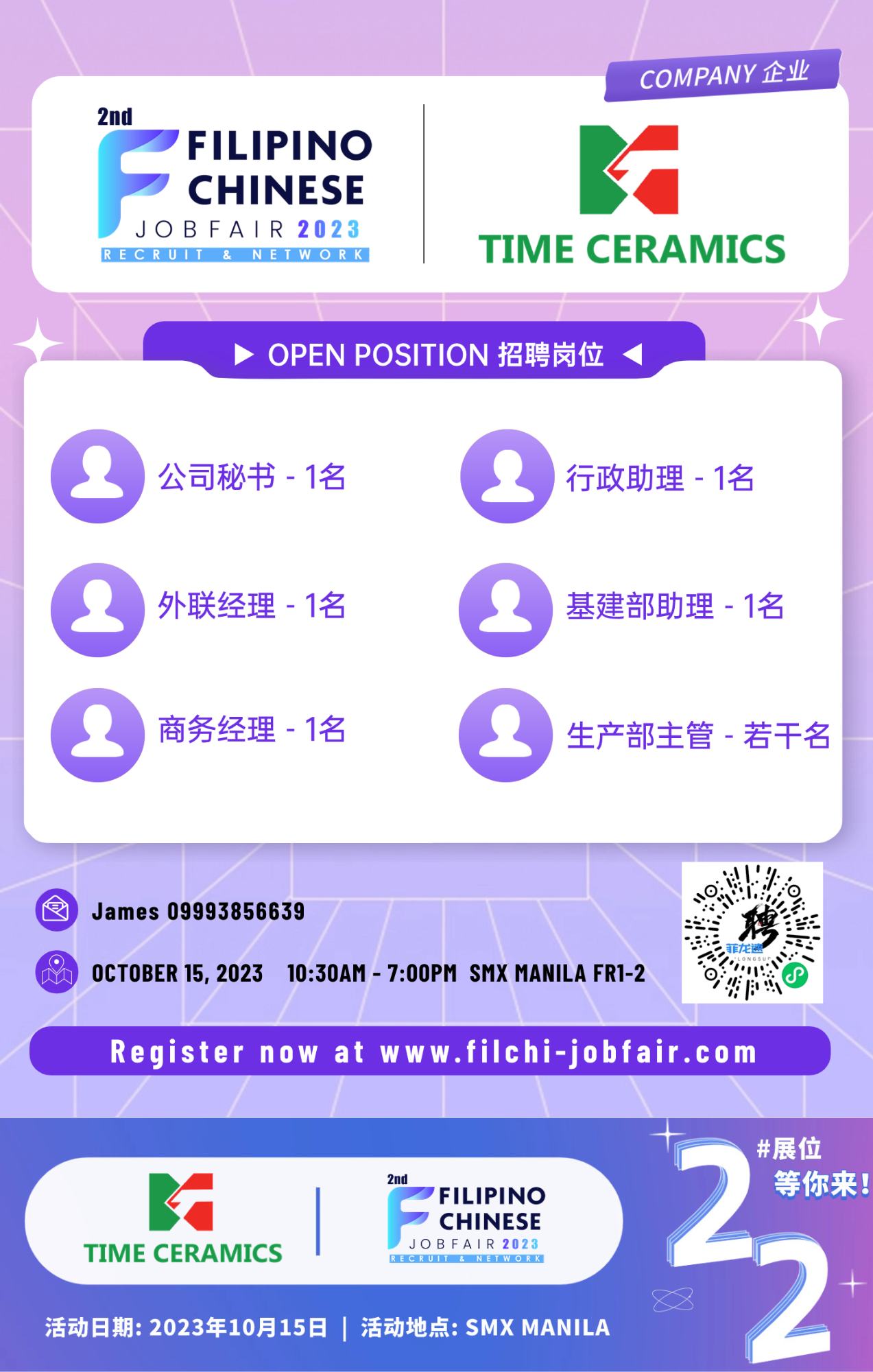 Time Ceramic Philippines Ltd. is a wholly owned subsidiary of Hong Kong Times Ceramic Co. Ltd. Head office currently has two major production sites in Nigeria, Pakistan.
Among them, Nigeria Times Ceramic was founded in 2016, with an investment of 600 million US dollars, covering an area of 3 million square meters, has been built into a large international group company that integrates production and import and export business in many fields such as industry, agriculture, Pakistan Time Ceramic was founded in December 2017, invested 450 million RMB, built three production lines, and currently has more than 1,000 employees.
In order to comply with the "One Belt, One Road" policy, our company began to invest in the establishment of a production base in the Philippines in 2023. It is expected to invest 110 million US dollars, covering an area of 900 mu, is expected to provide more than
Recruitment post:
Company Secretary - 1

Administrative Assistant - 1

Outreach Manager - 1

Business Manager - 1

Finance Assistant - 1

Infrastructure assistant - 1

Head of Production Department - Several
Contact: James | 09993856639
2nd Filipino-Chinese Job Fair in Manila 2023 (菲龙网第二届菲律宾华人线下招聘会) is the most anticipated event of the year for jobseekers and companies alike! Whether you're looking to switch careers, connect with peers, or look for talents, the Fil-Chi Job Fair is the go-to event for you!
For more details visit https://www.filchi-jobfair.com/
For inquiries and booth bookings:
Email: filchijobfair@flw.ph
Mobile: +63 966 637 6696
#filchijobfair #filchijobfair2023 #jobsph #RecruitmentPH #JobFairPH #Philippines2023 #hiring #HRPhilippines #菲律宾#Philippines #Manila #MetroManila #Jobs #JobOpportunity #RealEstate #joinourteam