Charting a Bright Career Path with TYCHE Holdings Inc.: Pioneering Opportunities in New Energy and Mining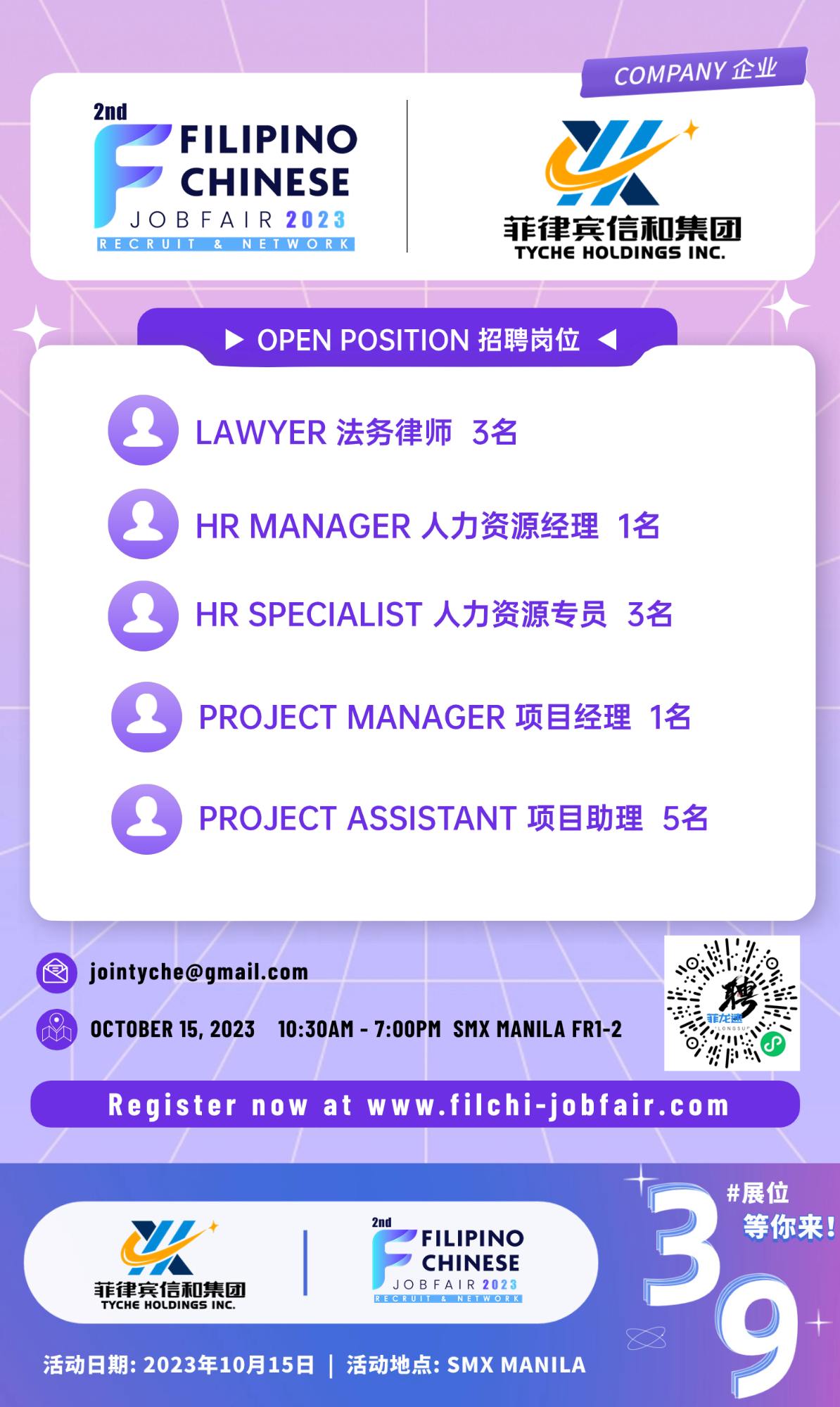 TYCHE Holdings Inc. is a diversified group primarily focused on new energy, mining development, and industrial investment as its core industries, making it a pioneering force in these sectors. The company has gained recognition and support from various quarters, including investors and industry professionals, making it a prominent choice for those seeking innovative and forward-thinking business opportunities.
Hiring Positions: 岗位空缺
3 Legal Lawyers 法务律师

1 Human Resources Manager 人力资源经理

3 Human Resources Officers 人力资源专员

1 Project Manager 项目经理

5 Project Assistants 项目助理
HR Email: jointyche@gmail.com
2nd Filipino-Chinese Job Fair in Manila 2023 (菲龙网第二届菲律宾华人线下招聘会) is the most anticipated event of the year for jobseekers and companies alike! Whether you're looking to switch careers, connect with peers, or look for talents, the Fil-Chi Job Fair is the go-to event for you!
For more details visit https://www.filchi-jobfair.com/
For inquiries and booth bookings:
Email: filchijobfair@flw.ph
Mobile: +63 966 637 6696
#filchijobfair #filchijobfair2023 #jobsph #RecruitmentPH #JobFairPH #Philippines2023 #hiring #HRPhilippines #菲律宾 #Philippines #Manila #MetroManila #Jobs #JobOpportunity #RealEstate #JoinOurTeam