Building the Future: Ortigas Land's Legacy and Job Opportunities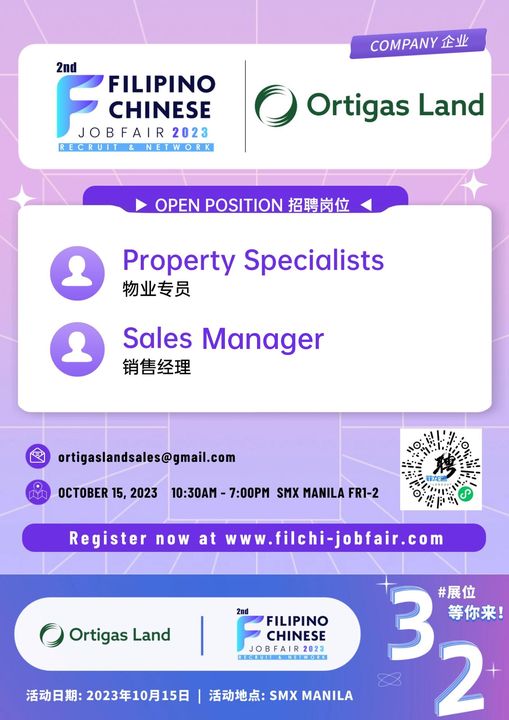 Founded in 1931, Ortigas Land transformed vast tracts of undeveloped land into a thriving and progressive industrial, commercial and residential center. The original Manda-loyon covers an area of 4.033 hectares and is currently home to some of today's notable commercial, residential and educational institutions.
Ortigas Land, one of the pioneers of the Philippine real estate industry, has perfected the art of living, working and relaxing by conceiving and building master-planned developments that over time have become thriving communities - examples of excellence in the Philippine real estate industry.
招聘岗位 / Job Vacancies:
物业专员 Property Specialists

销售经理 Sales Manager
Email: ortigaslandsales@gmail.com
2nd Filipino-Chinese Job Fair in Manila 2023 (菲龙网第二届菲律宾华人线下招聘会) is the most anticipated event of the year for jobseekers and companies alike! Whether you're looking to switch careers, connect with peers, or look for talents, the Fil-Chi Job Fair is the go-to event for you!
For more details visit https://www.filchi-jobfair.com/
For inquiries and booth bookings:
Email: filchijobfair@flw.ph
Mobile: +63 966 637 6696
#filchijobfair #filchijobfair2023 #jobsph #RecruitmentPH #JobFairPH #Philippines2023 #hiring #HRPhilippines #菲律宾 #Philippines #Manila #MetroManila #Jobs #JobOpportunity #RealEstate #JoinOurTeam