Breezy Valley SPA Inc.: Creating Wellness and Career Opportunitie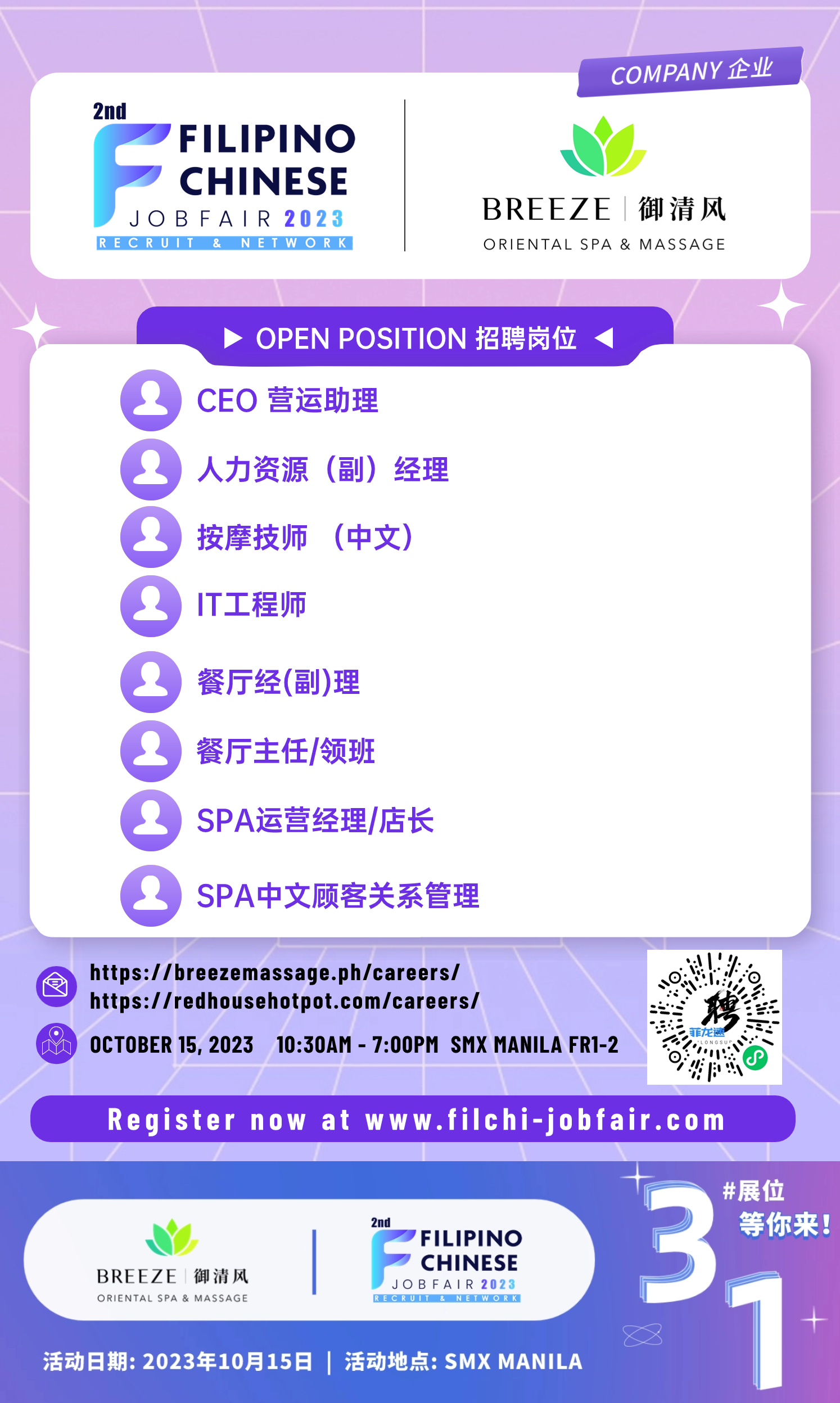 Breezy Valley SPA Inc., a company registered under the laws of the Republic of the Philippines with registered office address at GF Ore Central, 31st Street and 9th Avenue in Daii City, launched its brand and operations in 2017.
Since its establishment in 2018, under strict training, the employees have excellent skills and proprietary skills, the combination has built up their loyal customer base, excellent customer service reputation, and the company has established a good reputation in the field of massage services.
Makati branch started operations in 2019 in Makati City, Metro Manila.
The Pasay branch is scheduled to start operations in Fall 2023 at Filinvest Cyberzone Building A in Pasay, Metro Manila.
The new branch design is novel, reflects the meticulous consideration of customer needs everywhere, and highlights the advantages of traditional authentic Chinese massage to bring stress and relief as the core, we are the leading authentic Oriental massage service provider in the country, and to further improve the health and health awareness of our customers, continue to extend its business base.
Royal Breeze is a member of Creavalue Prime Services, Inc., whose operations are managed by CPSI.
In addition, Creavalue Prime Services, Inc. has also opened RedHouse Hotpot in the Manila area to provide healthy and authentic Taiwanese hotpot, using quality meat, fresh ingredients, fresh seafood, rich flavored soup bottom and delicious sauce.
The restaurant is located on the second floor of Estancia Mall, Pahig city.
The red house fresh hot pot originates from Cebu. There are currently two branches, widely loved by the locals. The company and its founders introduced their brand to Manila, fresh seafood was shipped from Palawan to the aquarium in the restaurant, and the spices and soy sauce were imported from Taiwan, emphasizing "fresh, healthy and delicious" features, hoping to bring a completely different catering experience to Manila customers.
CPSI responds to the development of the business, Breezy Valley SPA Inc. in the Philippines, Royal Breezy Valley and Red Mansion Fresh Hot Pot, recruiting the following outstanding talents, hope you can become one of them
Recruitment post
CEO Operations Assistant

Human Resources (Deputy) Manager

按摩技师 (中文)

IT Engineer

Restaurant Sutra (Deputy) Manager

Restaurant director/ foreman

SPA Operations Manager / Store Manager

SPA Chinese customer relationship management
Job search method:
https://job.feilongvip.club/index.php?m=companys&c=view&cid=560
2nd Filipino-Chinese Job Fair in Manila 2023 (菲龙网第二届菲律宾华人线下招聘会) was held last October 15, 2023, if you weren't able to visit your dream company's booth or attend the event, no worries as they are still waiting for your resume through their contact details!
For more details on the job fair, visit https://www.filchi-jobfair.com/
#filchijobfair #filchijobfair2023 #jobsph #RecruitmentPH #JobFairPH #Philippines2023 #hiring #HRPhilippines #菲律宾 #Philippines #Manila #MetroManila #Jobs #JobOpportunity #RealEstate #JoinOurTeam