Ayala Land Premier: Your Path to Success in the Real Estate Industry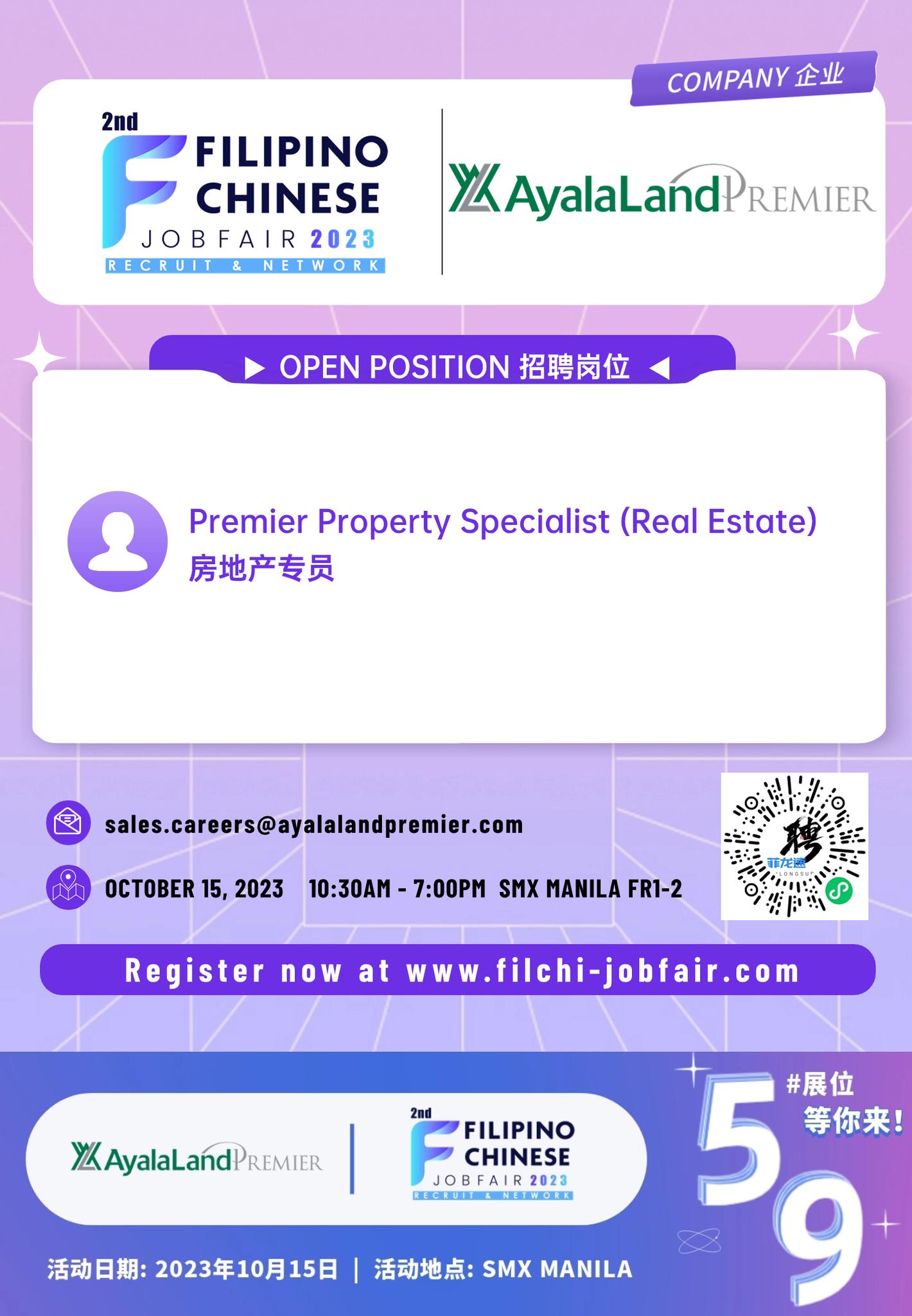 Ayala Land transformed the Philippine landscape as the nation's premier business district over five decades ago. As the largest, most experienced, and most trusted company in its field, Ayala Land leads the burgeoning real estate industry in the Philippines with prime residential and commercial developments.
Ayala Land Premier carries the heritage of Ayala Land. From high-rise condominiums to suburban environments and leisure communities, Ayala Land Premier developments are true testaments to high-quality living. Heralded for their prestige, choice of location, and unrivaled land value appreciation, each development guarantees prime locations and desired addresses.
At Ayala Land Premier, our biggest investment is our people. We train them to be the best that they can be. We support them in their drive to achieve their aspirations. And most of all, we inspire them to build strong relationships with clients.
You can now live your dream of a high-paying job, travel opportunities, and excellent chances of climbing up the corporate ladder in a prestigious company.
We reward people not only with excellent pay and perks but also with advancement in a solid career in the Real Estate industry.
Join our growing sales force now!
招聘岗位 / Job Vacancy:
Premier Property Specialist | Real Estate
Headcount: 50
Job Description
Are you looking for a career that:
Will fast-track your way to financial freedom and give you unlimited income potential?
Give you a chance to meet new people and establish meaningful connections?
Will allow you to work and collaborate with a team in a fun and dynamic working environment?
Will provide you with the mentorship and support that you need for personal and career growth?
Will give you the freedom to take control of your schedule and activities?
BE A CUT ABOVE THE REST!
Be an Ayala Land Premier Property Specialist and set yourself on a career path that offers invaluable opportunities to learn, earn, and grow professionally with the country's most trusted name in real estate.
Email: sales.careers@ayalalandpremier.com
2nd Filipino-Chinese Job Fair in Manila 2023 (菲龙网第二届菲律宾华人线下招聘会) was held last October 15, 2023, if you weren't able to visit your dream company's booth or attend the event, no worries as they are still waiting for your resume through their contact details!
For more details on the job fair, visit https://www.filchi-jobfair.com/
#filchijobfair #filchijobfair2023 #jobsph #RecruitmentPH #JobFairPH #Philippines2023 #hiring #HRPhilippines #菲律宾 #Philippines #Manila #MetroManila #Jobs #JobOpportunity #RealEstate #JoinOurTeam