Explore Global Career Opportunities with China Road and Bridge Corporation: Join a Leading International Construction Powerhouse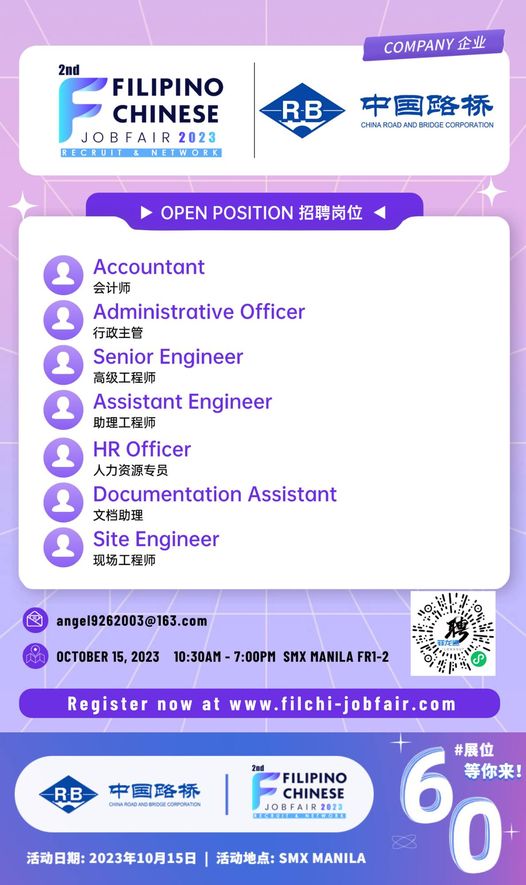 China Road and Bridge Corporation (CRBC), a subsidiary of Fortune Global 500 company China Communications Construction Company (CCCC), is one of the four largest state-owned companies that entered the international contracting and construction market. The company focuses on global civil engineering and construction projects such as highways, railways, bridges, ports, and tunnels. With branchesand offices in nearly 60 countries and regions in Asia, Africa, Europe, and the Americas, CRBC has established an efficient and rapid global market network.
CRBC established its Branch Office in the Philippines on August 25, 1995, as a longing commitment to providing construction innovation and economic development in urban and rural areas in the Philippines. The branch office has been a long partner of the Philippine government in its public works and highways endeavor. CRBC has done numerous projects in different regions of the country and these projects have stimulated the growth of the region with its quality and on-time construction. Some of the projects include the renovation and restoration of existing roads and highways and the construction of new roads that improved the livelihoods of the locals and promoted tourism in that area.
The company also entered projects like the CLLEX Phase 1 and the ongoing NLEX-SLEX Connector Road Project. It has also been recently a partner of the government-to-government (G-to-G) projects of theRepublic of the Philippines and the People's Republic of China. An example of the G-to-G projects is therecently inaugurated Two China Aid Bridges Project: Estrella-Pantaleon and Binondo-Intramuros Bridge,which have strengthened the bond between the two nations and have improved the flow of traffic in these areas.
The company will also start the Samal Island – Davao City (SIDC) Connector Bridge located on theisland of Mindanao, making the company visible all throughout the country. It has also initiated projects outside its scope by providing assistance and employment to the nearby communities and has donated supplies to public schools and hospitals during the trying times in the country.
Truly, the CRBC Philippine Branch Office has lived up to its principle "Build roads and bridges, make contributions to society, put employees in the first place, and strive for excellence". Looking into the future, CRBC Philippine Branch Office will continue to be committed to constructing quality and on-time roads and bridges, helping the society, taking care of its employees, and excelling in the new fields it will embark on.
Recruitment Opening / 招聘岗位:
会计师 ACCOUNTANT
行政主管 ADMINISTRATIVE OFFICER
高级工程师 SENIOR ENGINEER
助理工程师 ASSISTANT ENGINEER
人力资源专员 HR OFFICER
文档助理 DOCUMENTATION ASSISTANT
现场工程师 SITE ENGINEER
Email: angel9262003@163.com
2nd Filipino-Chinese Job Fair in Manila 2023 (菲龙网第二届菲律宾华人线下招聘会) is the most anticipated event of the year for jobseekers and companies alike! Whether you're looking to switch careers, connect with peers, or look for talents, the Fil-Chi Job Fair is the go-to event for you!
For more details visit https://www.filchi-jobfair.com/
For inquiries and booth bookings:
Email: filchijobfair@flw.ph
Mobile: +63 966 637 6696
#filchijobfair #filchijobfair2023 #jobsph #RecruitmentPH #JobFairPH #Philippines2023 #hiring #HRPhilippines #菲律宾