Sailing Towards Success: Philunion Shipping Inc. Sets Course at the 2nd Fil-Chi Job Fair in Manila!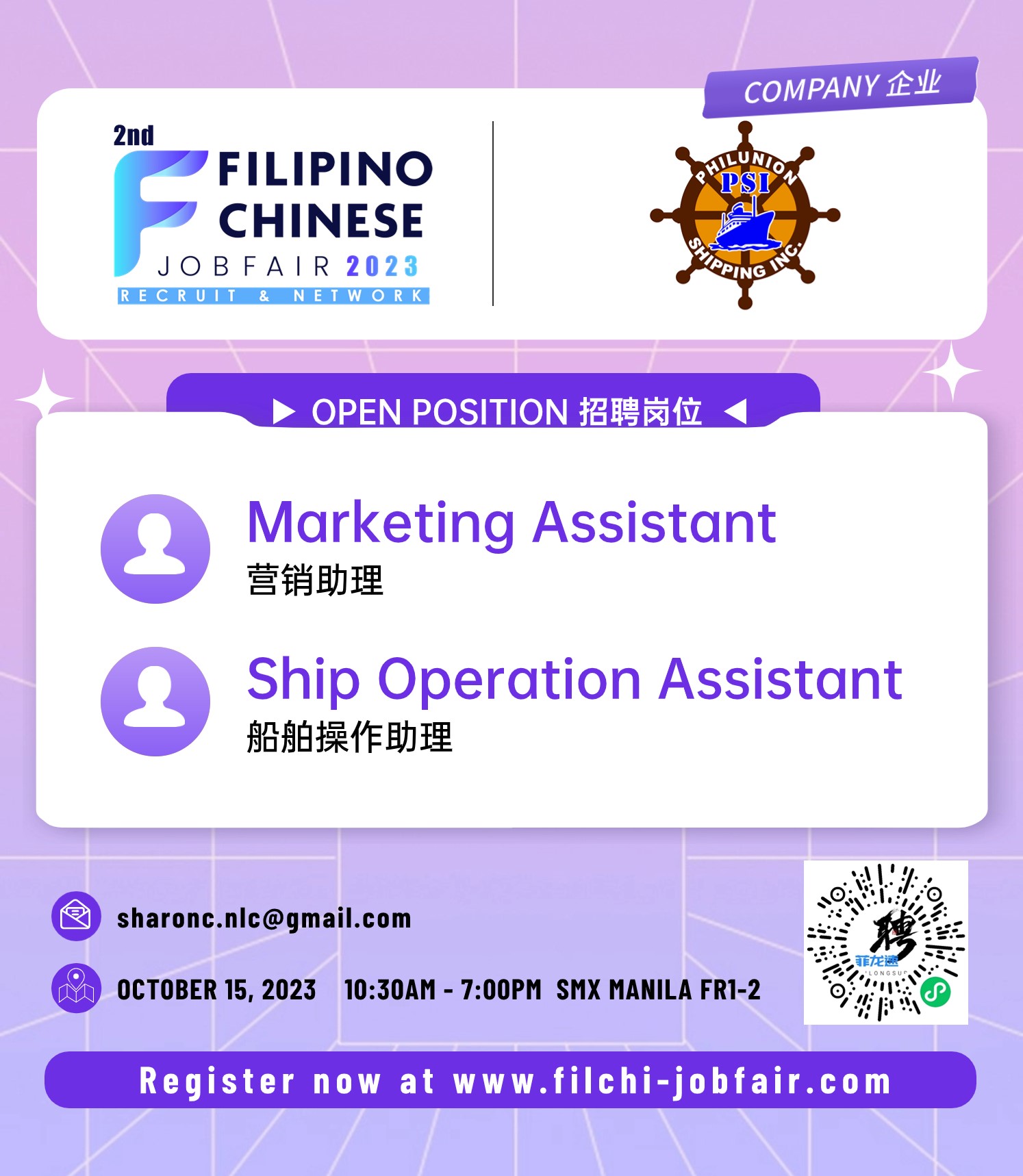 Philunion Shipping Inc. was established in June 2011 and is a shipping company registered in the Philippines. The companies registered is located in Barangay Baybay Carrascal Surigao del Sur and is registered and certified by the Surigao Maritime Bureau with certification number: MRO XIII-019-2020
At present the company owns four flat barges, which are mainly engaged in the transportation business of laterite nickel ore, gravel san, and engineering equipment on time lease to customers. The company's number of barges is still expanding and will increase year by year.
In addition to barge time charter business, the company also provides professional and experienced crew members to other ship owners to operate their barges on their behalf.
Recruitment Opening:
Marketing Assistant 营销助理

Ship Operation Assistant 船舶操作助理
HR Email Address: sharonc.nlc@gmail.com
Visit Philunion Shipping Inc.'s booth at the upcoming 2nd Fil-Chi Job Fair in Manila. Register now to attend the event for FREE!
https://www.filchi-jobfair.com/visit.html
2nd Filipino-Chinese Job Fair in Manila 2023 (菲龙网第二届菲律宾华人线下招聘会) is the most anticipated event of the year for jobseekers and companies alike! Whether you're looking to switch careers, connect with peers, or look for talents, the Fil-Chi Job Fair is the go-to event for you! See you on October 15, 2023!
For more details visit https://www.filchi-jobfair.com/
For inquiries and booth bookings:
Email: filchijobfair@flw.ph
Mobile: +63 966 637 6696
#filchijobfair #filchijobfair2023 #jobsph #RecruitmentPH #JobFairPH #Philippines2023 #hiring #HRPhilippines #菲律宾