Join Holysheep Commerce: Empowering Your TikTok E-commerce Career Journey at the 2nd Fil-Chi Job Fair in Manila!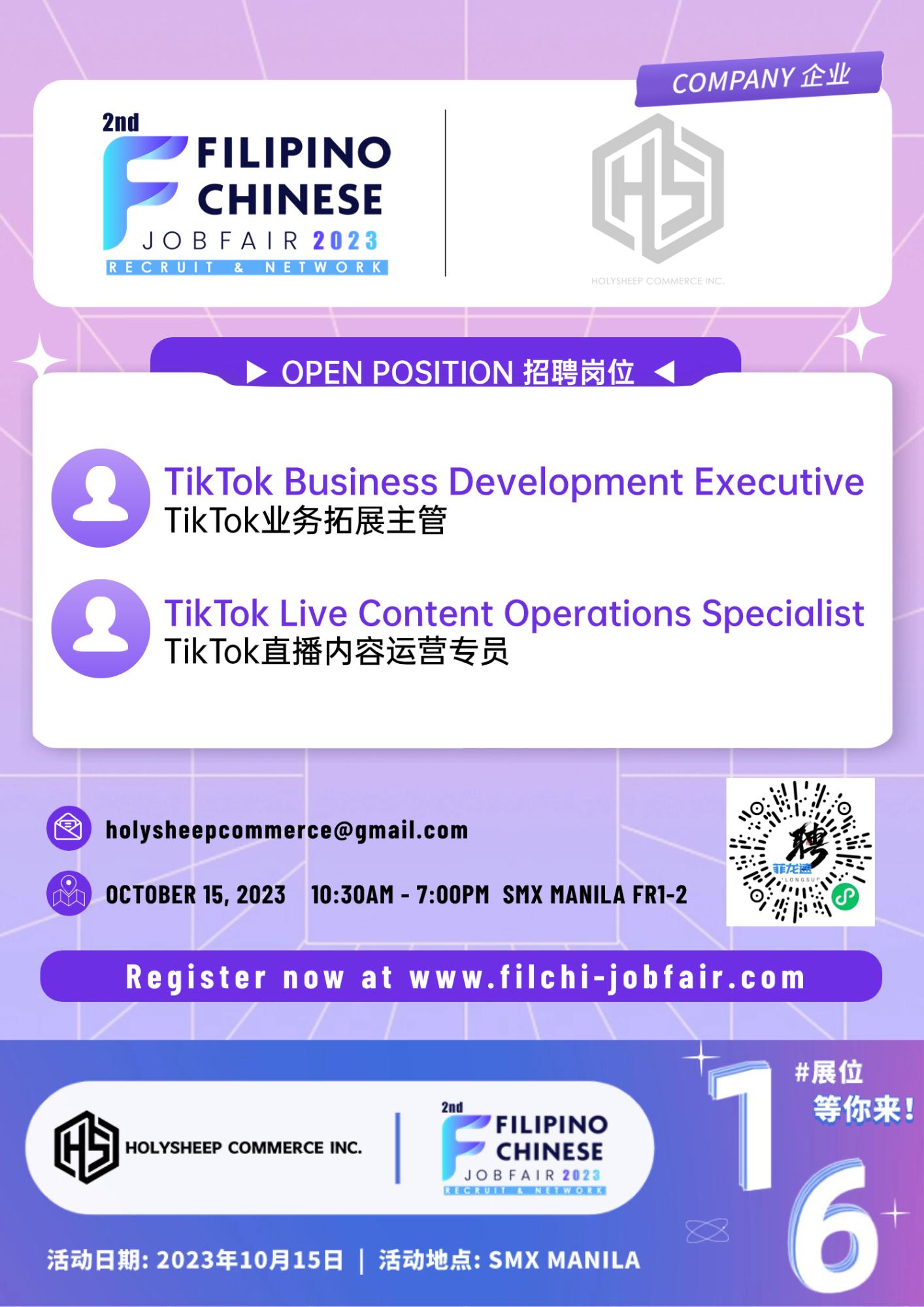 Holysheep Commerce Inc. is an officially recognized TSP and MCN agency, composed of a team with rich experience in internet management. They specialize in providing systematic operational and strategic services for TikTok e-commerce, covering areas such as TikTok e-commerce live streaming, video content creation, advertising, brand marketing, and more. As a leading comprehensive TikTok e-commerce agency in the Philippine market, Holysheep is dedicated to assisting businesses and brands in their end-to-end operations on TikTok and becoming the driving force behind their online growth.
Currently, the company focuses on offering TikTok e-commerce brand agency services across multiple product categories, serving over 50 businesses and collaborating with numerous globally renowned brands under annual partnership agreements. As their business continues to grow rapidly, Holysheep is actively seeking exceptional talent and looks forward to achieving dreams together with you!
Recruitment Opening:
TikTok Business Development ExecutiveTikTok 业务拓展主管

TikTok Live Content Operations SpecialistTikTok 直播内容运营专员
HR Email Address: holysheepcommerce@gmail.com
Visit Holysheep Commerce's booth at the upcoming 2nd Fil-Chi Job Fair in Manila. Register now to attend the event for FREE!
https://www.filchi-jobfair.com/visit.html
2nd Filipino-Chinese Job Fair in Manila 2023 (菲龙网第二届菲律宾华人线下招聘会) is the most anticipated event of the year for jobseekers and companies alike! Whether you're looking to switch careers, connect with peers, or look for talents, the Fil-Chi Job Fair is the go-to event for you! See you on October 15, 2023!
For more details visit https://www.filchi-jobfair.com/
For inquiries and booth bookings:
Email: filchijobfair@flw.ph
Mobile: +63 966 637 6696
#filchijobfair #filchijobfair2023 #jobsph #RecruitmentPH #JobFairPH #Philippines2023 #hiring #HRPhilippines #菲律宾