Get Ready for a Spectacular Gateway to Opportunity: Sneak Peek at the Companies Joining the 2nd Filipino-Chinese Job Fair in Manila 2023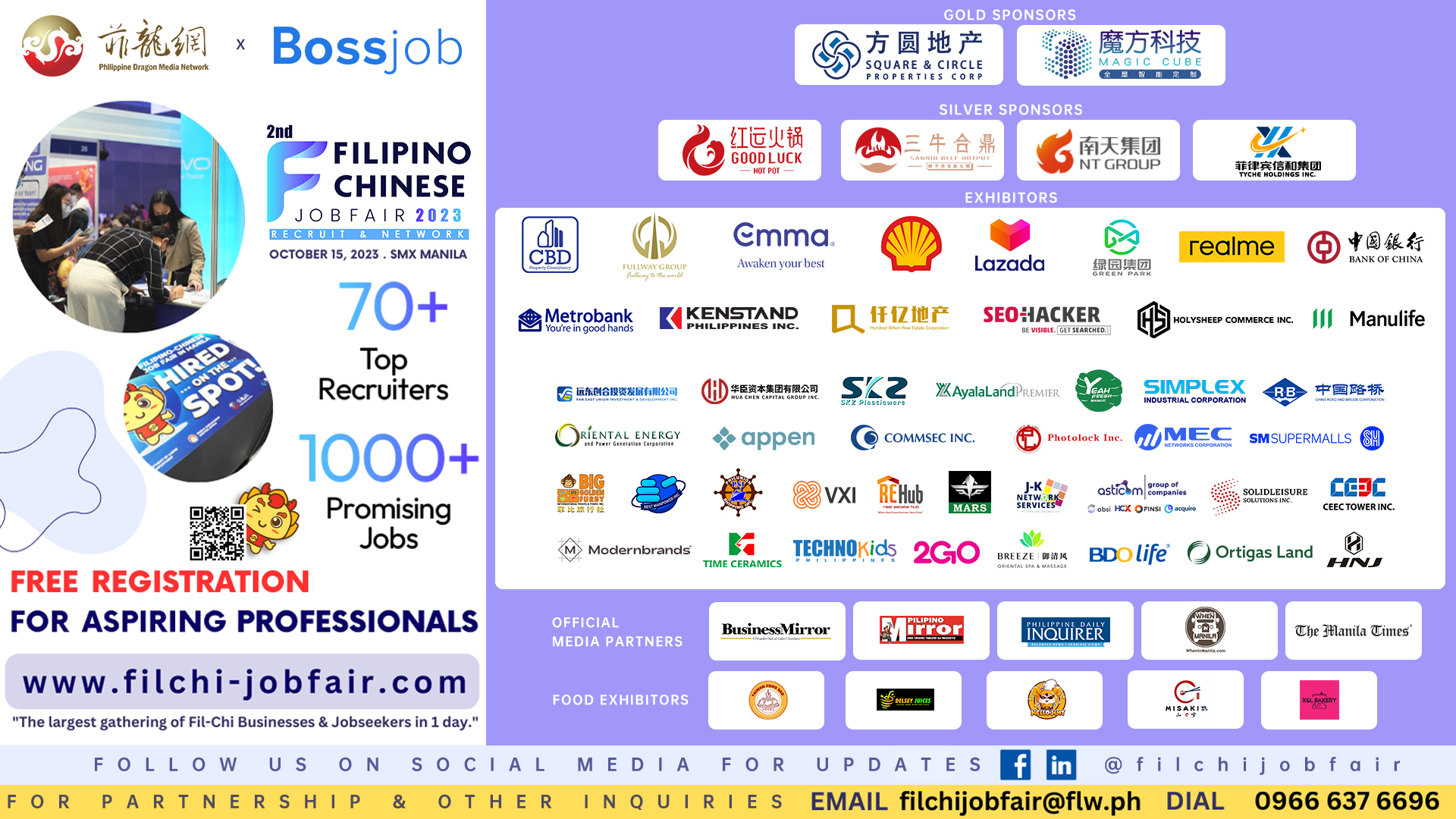 We're down to the final countdown for the much anticipated 2nd Filipino-Chinese Job Fair in Manila 2023 (菲龙网第二届菲律宾华人线下招聘会). You don't want to miss this once in a lifetime opportunity to connect, network, and get hired on the spot with around 70 fantastic exhibitors on the ground, see you on October 15th at SMX Convention Center Manila!
PHILIPPINE DRAGON MEDIA NETWORK 菲龙网

BOSSJOB 招聘平台

SQUARE & CIRCLE PROPERTIES CORP. 方圆地产公司

MAGIC CUBE 魔方科技 (全屋智能定制)

GOOD LUCK HOTPOT 红运火锅

SANNIU BEEF HOTPOT INC. 三牛合鼎

NT GROUP 南天集团(食品)

TYCHE HOLDINGS INC. 菲律宾信和集团 (新能源公司)

CBD PROPERTY CONSULTANCY(房地产咨询公司)

FULLWAY GROUP 富为集团

EMMA SLEEP PH(睡眠科技公司)

SHELL (壳牌)

LAZADA (网购平台)

GREEN PARK E-COMMERCE SERVICE CORP. 绿园集团 (传媒服务公司)

realme 真我

BANK OF CHINA 中国银行

METROBANK

KENSTAND PHILIPPINES INC. (贸易公司)

HUNDRED BILLION REAL ESTATE CORPORATION 仟亿地产

SEO Hacker (SEO优化公司)

HOLYSHEEP COMMERCE INC. (电商)

MANULIFE BUSINESS PROCESSING SERVICES

MANULIFE FINANCIAL PLANS

YEAH FRESHMART MINIMART 野菜生鲜

PHOTOLOCK INC. (办公用品贸易公司)

FAR EAST UNION & DEVELOPMENT INC. 远东创合投资发展有限公司

SKZ PLASTIC MFG. CORP. (塑料制品厂)

HUA CHEN CAPITAL GROUP HOLDING INC. 华臣资本集团

SIMPLEX INDUSTRIAL CORP. (橡胶制品经销商)

CHINA ROAD & BRIDGE CORP. 中国路桥

APPEN SERVICES PHILIPPINES(科技公司)

BIG GOLDEN FURBY INTERNATIONAL TRAVEL & TOURS 菲比旅行社

BEST MANPOWER INC. (人力资源)

COMMSEC INC.(安全信息技术公司)

ORIENTAL ENERGY & POWER GENERATION CORP. (水电站公司)

ASTICOM GROUP OF COMPANIES (科技集团)

MEC NETWORKS CORP. (ICT信息与通信技术服务)

AYALA LAND PREMIER 阿亚拉地产

SOLIDLEISURE SOLUTIONS INC. (软件开发公司)

J-K NETWORK SERVICES(双语招聘平台)

MODERNBRANDS INC. (家具公司)

PHILUNION SHIPPING INC. (航运公司)

FORTWORTH/TECHNOKIDS PHILIPPINES (教育科技公司)

TIME CERAMICS (瓷砖公司)

BREEZE 御清风 (SPA)

SM SUPERMALLS (购物中心)

GORIDE INTERNATIONAL INC. (摩托车头盔、配件公司)

2GO (物流公司)

ORTIGAS LAND (地产公司)

CEEC TOWER INC. 中国能建(能源建设)

MARS (汽车零件销售)

VXI GLOBAL HOLDINGS B.V. (BPO外包服务公司)

REHUB REAL ESTATE INC. (地产公司)

BDO LIFE (保险公司)
FOOD EXHIBITORS
TAIWAN FRIED BAO 台湾生煎包

DELSEY JUICES 水果汁

HELLO HMT MILKTEA哈喽奶茶

MISAKI 三崎日料店

X&L BAKERY 蛋糕店
OFFICIAL MEDIA PARTNERS
BUSINESS MIRROR & PILIPINO MIRROR

WhenInManila.com

PHILIPPINE DAILY INQUIRER

THE MANILA TIMES
OTHER EXHIBITORS
ELL CONSULTANCY SERVICES

TOTAL INFORMATION MANAGEMENT

ALVEO LAND
Registration is ongoing and completely FREE!
Prepare your resume and RSVP now at https://www.filchi-jobfair.com/visit.html to claim your giftbag and be eligible for the special raffle on October 15 at SMX Manila!
#filchijobfair #filchijobfair2023 #jobsph #RecruitmentPH #JobFairPH #philippines #philippinejobfair #菲律宾 #马尼拉