Fostering Careers, Fostering Estates: Square and Circle Properties Corp. Excels at the 2nd Fil-Chi Job Fair in Manila!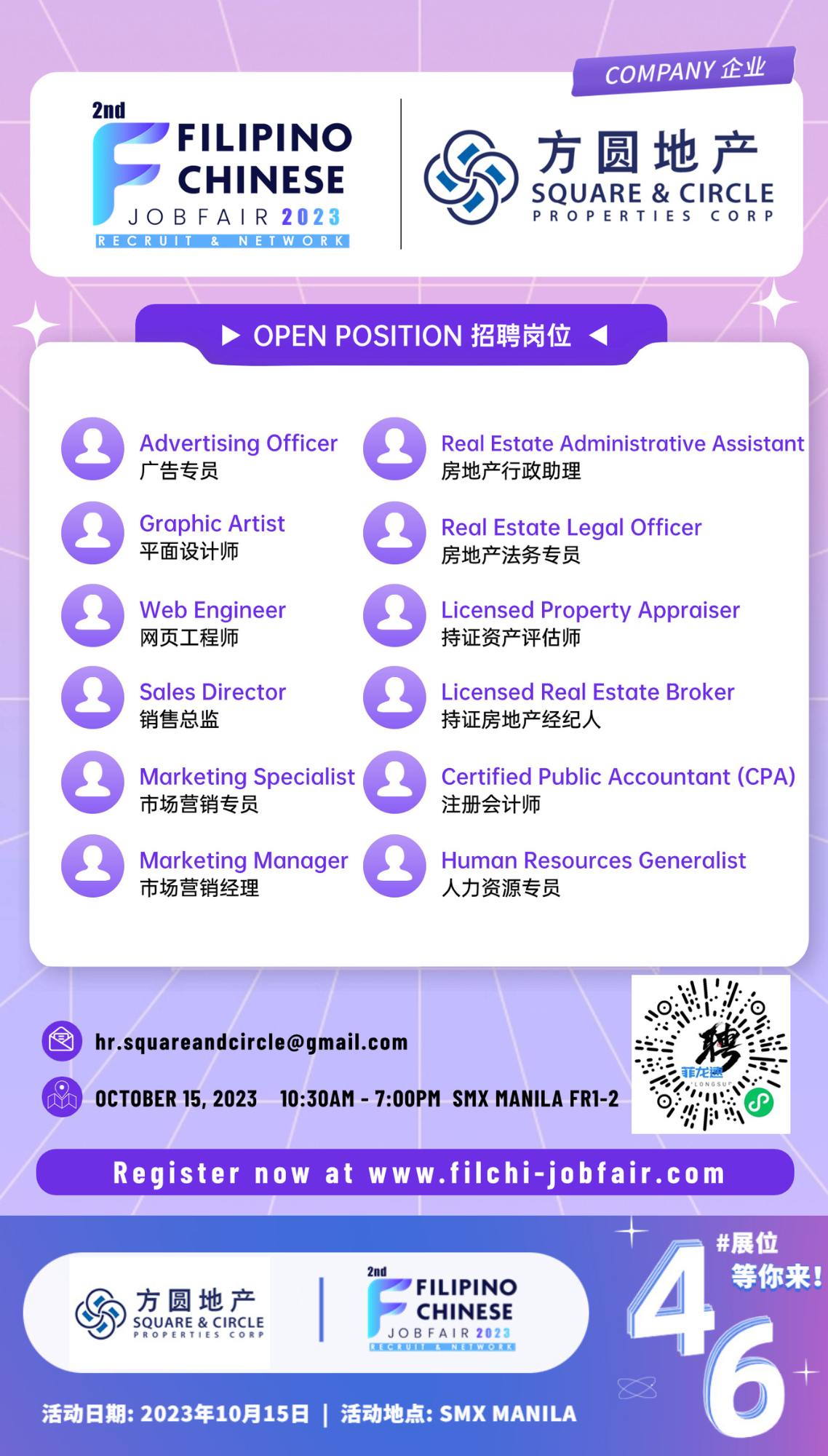 Are you passionate about real estate and looking for an exciting career opportunity in Metro Manila? Square and Circle Properties Corp. (SCPC) is a dynamic and dedicated real estate brokerage firm in the Philippines, and we are expanding our team! If you are driven, talented, and dedicated, we want you to join us on our journey to success.
SCPC is an accredited real estate brokerage firm servicing various well- known and top-notch real estate developers in the Philippines catering to all market segment from high- end luxurious development to all kinds of asset classes: Industrial, Warehousing, Condominiums, Commercial Spaces and House and Lot. For the past six years, SCPC have been committed to delivering exceptional service, and personalized, professional guidance for residential and commercial properties across the Philippines.
Recruitment Opening:
Advertising Officer 广告专员

Graphic Artist 平面设计师

Web Engineer 网页工程师

Sales Director 销售总监

Marketing Specialist 市场营销专员

Marketing Manager 市场营销经理

Real Estate Administrative Assistant 房地产行政助理

Real Estate Legal Officer 房地产法务专员

Licensed Property Appraiser 持证资产评估师

Licensed Real Estate Broker 持证房地产经纪人

Certified Public Accountant (CPA) 注册会计师

Human Resources Generalist 人力资源专员
If you are ready to take your career in real estate to the next level and contribute to our dynamic team, we invite you to share with us your resume. We value diversity, creativity, and excellence, and we offer a supportive and rewarding work environment.
HR Email Address: hr.squareandcircle@gmail.com
Visit Square and Circle Properties Corp.'s booth at the upcoming 2nd Fil-Chi Job Fair in Manila. Register now to attend the event for FREE!
https://www.filchi-jobfair.com/visit.html
2nd Filipino-Chinese Job Fair in Manila 2023 (菲龙网第二届菲律宾华人线下招聘会) is the most anticipated event of the year for jobseekers and companies alike! Whether you're looking to switch careers, connect with peers, or look for talents, the Fil-Chi Job Fair is the go-to event for you! See you on October 15, 2023!
For more details visit https://www.filchi-jobfair.com/
For inquiries and booth bookings:
Email: filchijobfair@flw.ph
Mobile: +63 966 637 6696
#filchijobfair #filchijobfair2023 #jobsph #RecruitmentPH #JobFairPH #Philippines2023 #hiring #HRPhilippines #菲律宾