Empowering Tech Education: Technokids Philippines at the 2nd Fil-Chi Job Fair in Manila!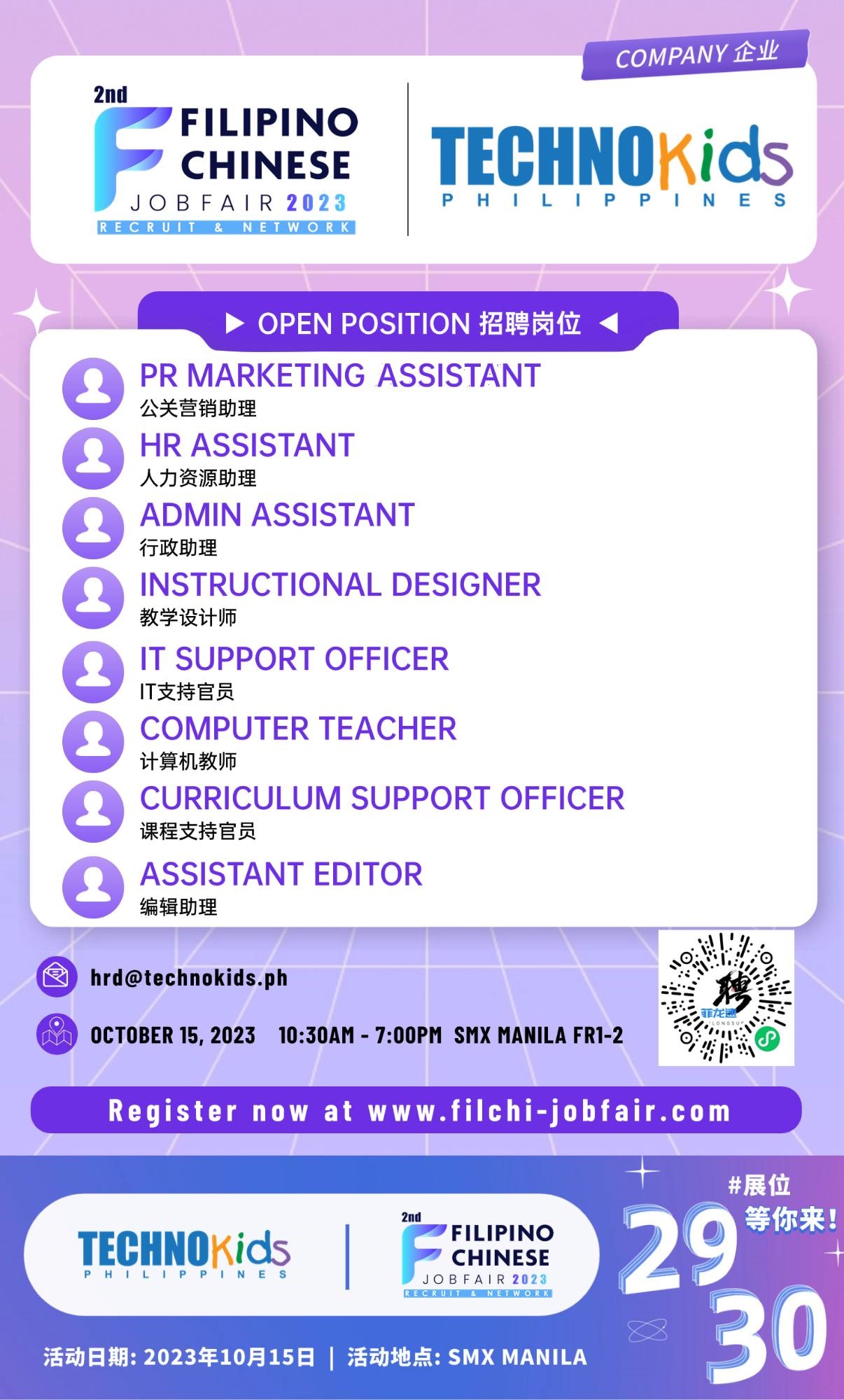 PCMed-TechnoKids, conceptualized in 2002, is a premier computer curriculum service provider in the country specializing in delivering leading-edge computer curriculum to schools and providing excellent technology skills training to teachers in the service of the schools and their students. We commit ourselves to bringing together the best computer education materials and unparalleled services to our partners and our Filipino youth.
Recruitment Opening:
PR MARKETING ASSISTANT 公关营销助理

HR ASSISTANT 人力资源助理

ADMIN ASSISTANT 行政助理

INSTRUCTIONAL DESIGNER 教学设计师

IT SUPPORT OFFICERIT 支持官员

COMPUTER TEACHER 计算机教师

CURRICULUM SUPPORT OFFICER 课程支持官员

ASSISTANT EDITOR 编辑助理
HR Email Address: hrd@technokids.ph
Visit Technokids Philippines's booth (#29 & 30) at the upcoming 2nd Fil-Chi Job Fair in Manila. Register now to attend the event for FREE!
https://www.filchi-jobfair.com/visit.html
2nd Filipino-Chinese Job Fair in Manila 2023 (菲龙网第二届菲律宾华人线下招聘会) is the most anticipated event of the year for jobseekers and companies alike! Whether you're looking to switch careers, connect with peers, or look for talents, the Fil-Chi Job Fair is the go-to event for you! See you on October 15, 2023!
For more details visit https://www.filchi-jobfair.com/
For inquiries and booth bookings:
Email: filchijobfair@flw.ph
Mobile: +63 966 637 6696
#filchijobfair #filchijobfair2023 #jobsph #RecruitmentPH #JobFairPH #Philippines2023 #hiring #HRPhilippines #菲律宾