Embarking on Tech Endeavors with SolidLeisure Solutions Inc.: Your Path to Success at the 2nd Fil-Chi Job Fair in Manila!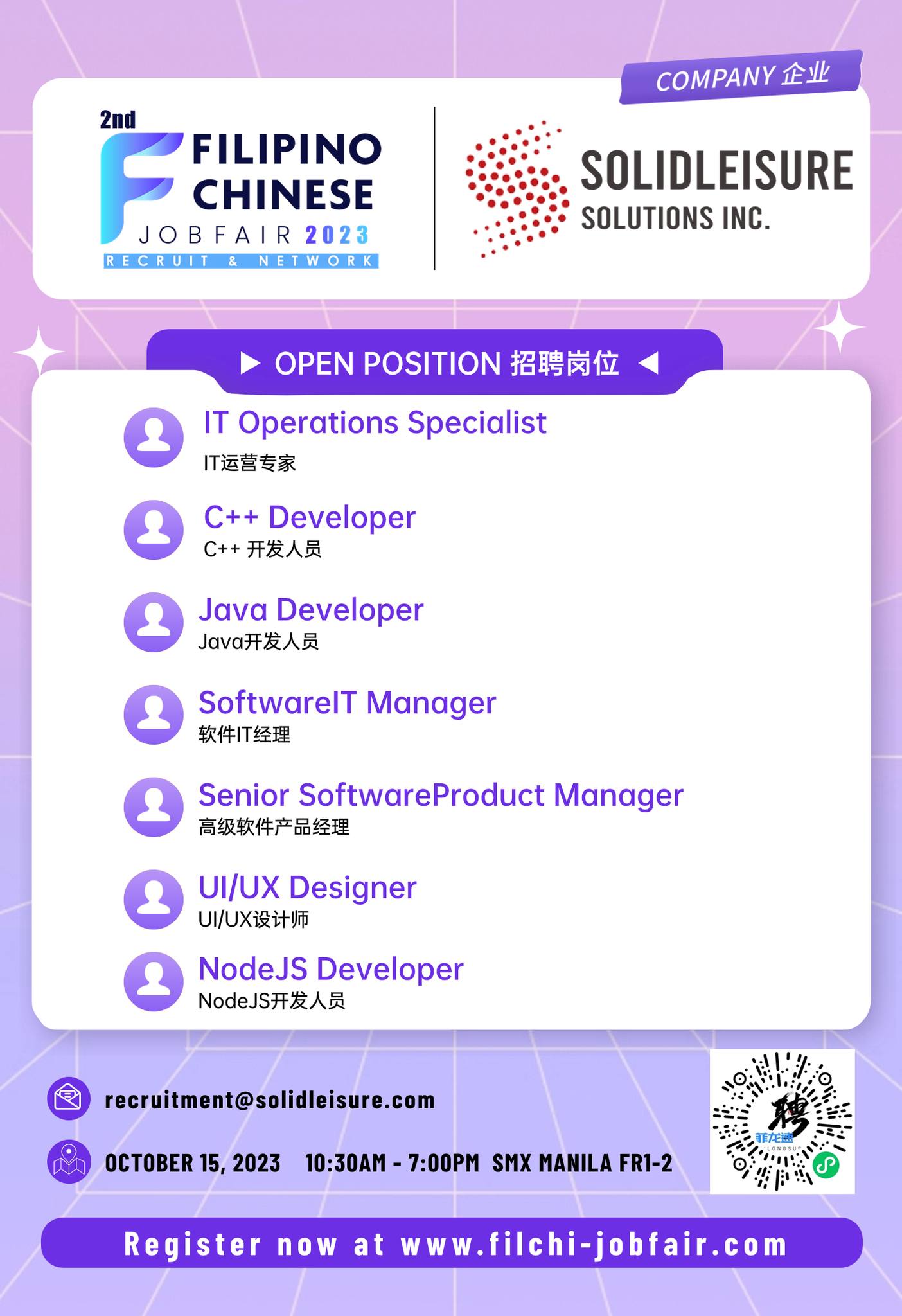 SolidLeisure Solutions Inc. is a company specializing in outsourcing services, covering a wide range of processes such as data processing, voice communication or collection, technical support, logistical support, scientific analysis, and research. We also provide software consulting services similar to those offered by outsourcing IT service providers, software development companies, software service providers, and accounting firms.
Recruitment Opening:
IT Operations Specialist IT运营专家

C++ Developer C++开发人员

Java Developer Java开发人员

SoftwarelT Manager 软件IT经理

Senior SoftwareProduct Manager 高级软件产品经理

UI/UX Designer UI/UX设计师

NodeJS Developer NodeJS开发人员
HR Email Address: recruitment@solidleisure.com
Visit SolidLeisure Solutions Inc.'s booth at the upcoming 2nd Fil-Chi Job Fair in Manila. Register now to attend the event for FREE!
https://www.filchi-jobfair.com/visit.html
2nd Filipino-Chinese Job Fair in Manila 2023 (菲龙网第二届菲律宾华人线下招聘会) is the most anticipated event of the year for jobseekers and companies alike! Whether you're looking to switch careers, connect with peers, or look for talents, the Fil-Chi Job Fair is the go-to event for you! See you on October 15, 2023!
For more details visit https://www.filchi-jobfair.com/
For inquiries and booth bookings:
Email: filchijobfair@flw.ph
Mobile: +63 966 637 6696
#filchijobfair #filchijobfair2023 #jobsph #RecruitmentPH #JobFairPH #Philippines2023 #hiring #HRPhilippines #菲律宾