Dipping into a Flavorful Career: Good Luck Hot Pot Sparkles at the 2nd Fil-Chi Job Fair in Manila!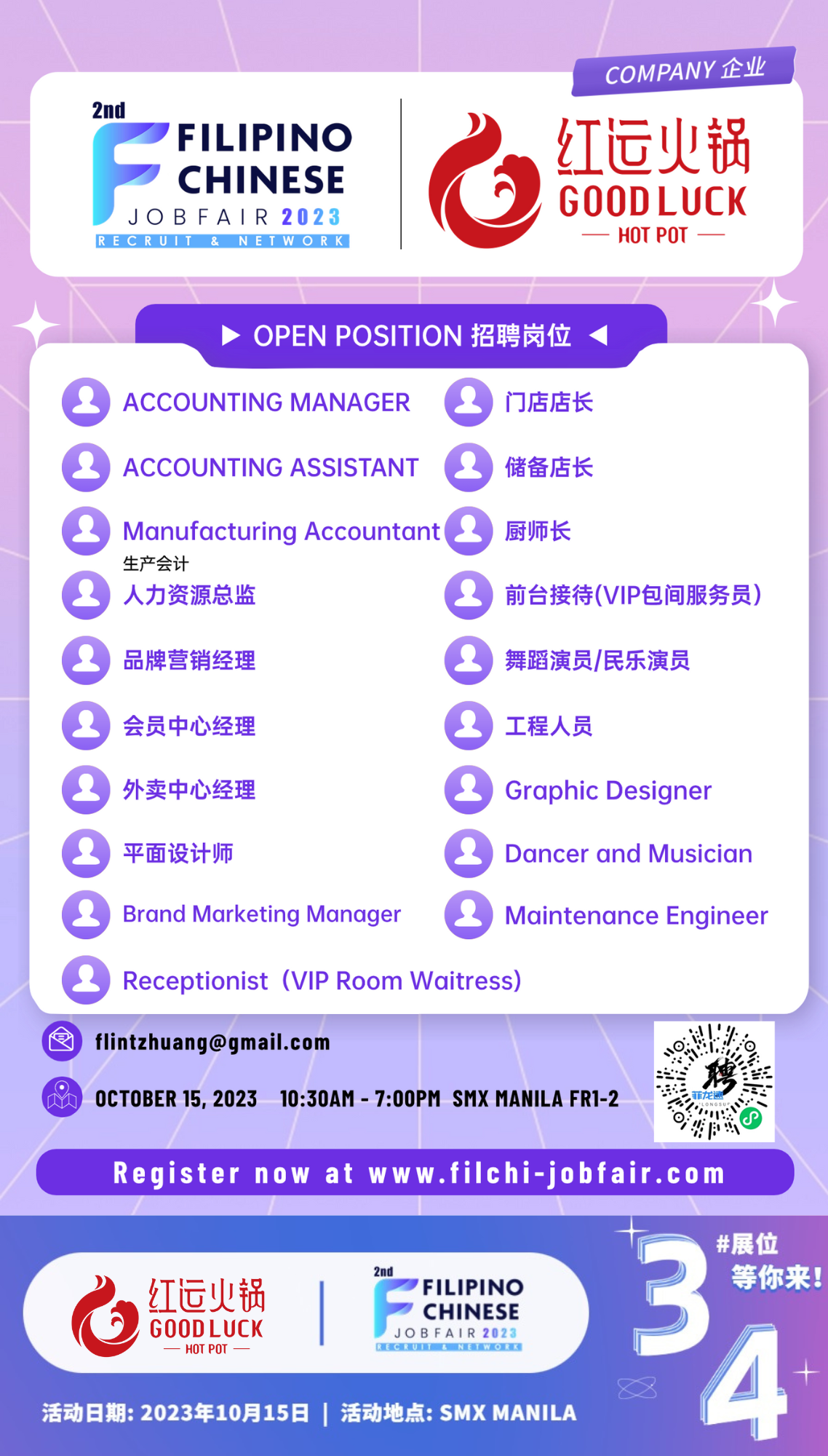 Good Luck Hot Pot has been well received by Chinese and Filipinos, especially by the elites. It has also won the reputation of being the benchmark of Oriental Dining because it offers excellent dining experience, extraordinary Chinese cultural performances, and meeting the needs of different parties and business banquets. Good Luck Hot Pot expanded to the Philippines and is commited to create more job opportunities for Filipinos. We are offering professional F&B management knowledge and experiences, bringing in authentic Chinese culture and performances, and promoting the friendship of the two countries.
The store is designed with classic Chinese architecture in mind, giving the customers a grand, solemn, but also lively dining environment. The store occupies two floors; each floor has a VIP room and common dining area. There are a total of 10 VIP Rooms, namely 1 President's Room, 2 Queen's Room, and 7 VIP Room.
Recruitment Opening:
1.Director of Finance 财务总监
2.Director of Operations 运营总监
Store Manager 门店店长

Reserve Store Manager 储备店长

Executive Chef 行政总厨

Director of Human Resources 人力资源总监

Brand Marketing Manager 品牌营销经理

Member Center Manager 会员中心经理

Delivery Center Manager 外卖中心经理

Graphic Designer 平面设计师

Front Desk Reception (VIP Room Attendant) 前台接待(VIP包间服务员)

Dancer / Folk Musician 舞蹈演员/民乐演员
HR Email Address: flintzhuang@gmail.com
Visit Good Luck Hot Pot's booth at the upcoming 2nd Fil-Chi Job Fair in Manila. Register now to attend the event for FREE!
https://www.filchi-jobfair.com/visit.html
2nd Filipino-Chinese Job Fair in Manila 2023 (菲龙网第二届菲律宾华人线下招聘会) is the most anticipated event of the year for jobseekers and companies alike! Whether you're looking to switch careers, connect with peers, or look for talents, the Fil-Chi Job Fair is the go-to event for you! See you on October 15, 2023!
For more details visit https://www.filchi-jobfair.com/
For inquiries and booth bookings:
Email: filchijobfair@flw.ph
Mobile: +63 966 637 6696
#filchijobfair #filchijobfair2023 #jobsph #RecruitmentPH #JobFairPH #Philippines2023 #hiring #HRPhilippines #菲律宾