Crafting AI Excellence: Appen Global's Precision Data Fuels Careers at the 2nd Fil-Chi Job Fair in Manila!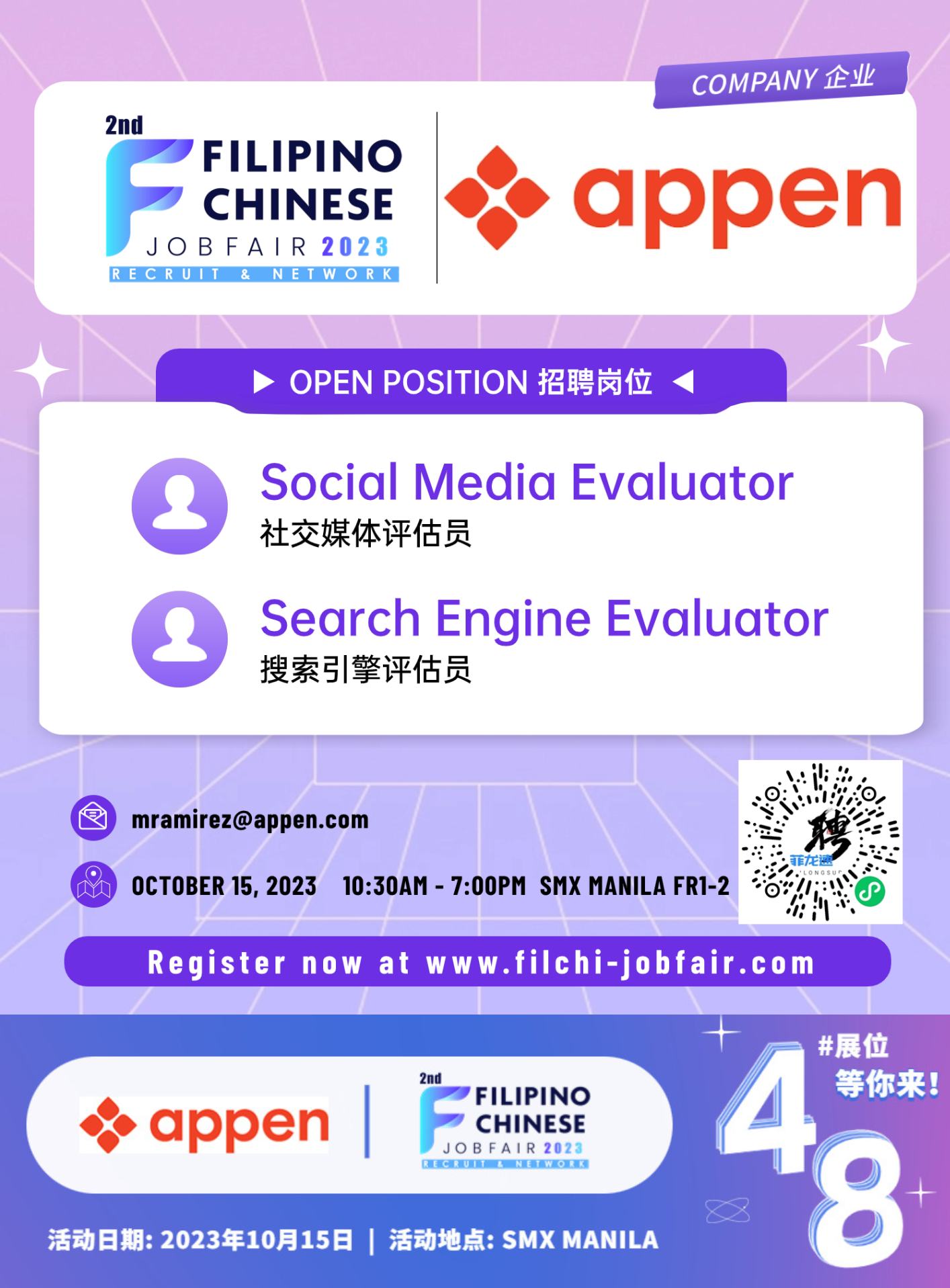 Join Appen Global, the global leader in providing human-annotated data for machine learning and artificial intelligence.
Appen's expertise in data collection, curation, and enhancement empowers the training of Al systems with unmatched accuracy.
With comprehensive services in data collection, transcription. annotation, and evaluation, we are driving the advancement of Al technology
Appen can't wait for you to be part of our innovative team!
Recruitment Opening:
Social Media Evaluator 社交媒体评估员

Search Engine Evaluator 搜索引擎评估员
HR Email Address: mramirez@appen.com
Visit Appen Global's booth at the upcoming 2nd Fil-Chi Job Fair in Manila. Register now to attend the event for FREE!
https://www.filchi-jobfair.com/visit.html
2nd Filipino-Chinese Job Fair in Manila 2023 (菲龙网第二届菲律宾华人线下招聘会) is the most anticipated event of the year for jobseekers and companies alike! Whether you're looking to switch careers, connect with peers, or look for talents, the Fil-Chi Job Fair is the go-to event for you! See you on October 15, 2023!
For more details visit https://www.filchi-jobfair.com/
For inquiries and booth bookings:
Email: filchijobfair@flw.ph
Mobile: +63 966 637 6696
#filchijobfair #filchijobfair2023 #jobsph #RecruitmentPH #JobFairPH #Philippines2023 #hiring #HRPhilippines #菲律宾