Best Manpower Inc.: Your Bridge to Career Success at the 2nd Fil-Chi Job Fair in Manila!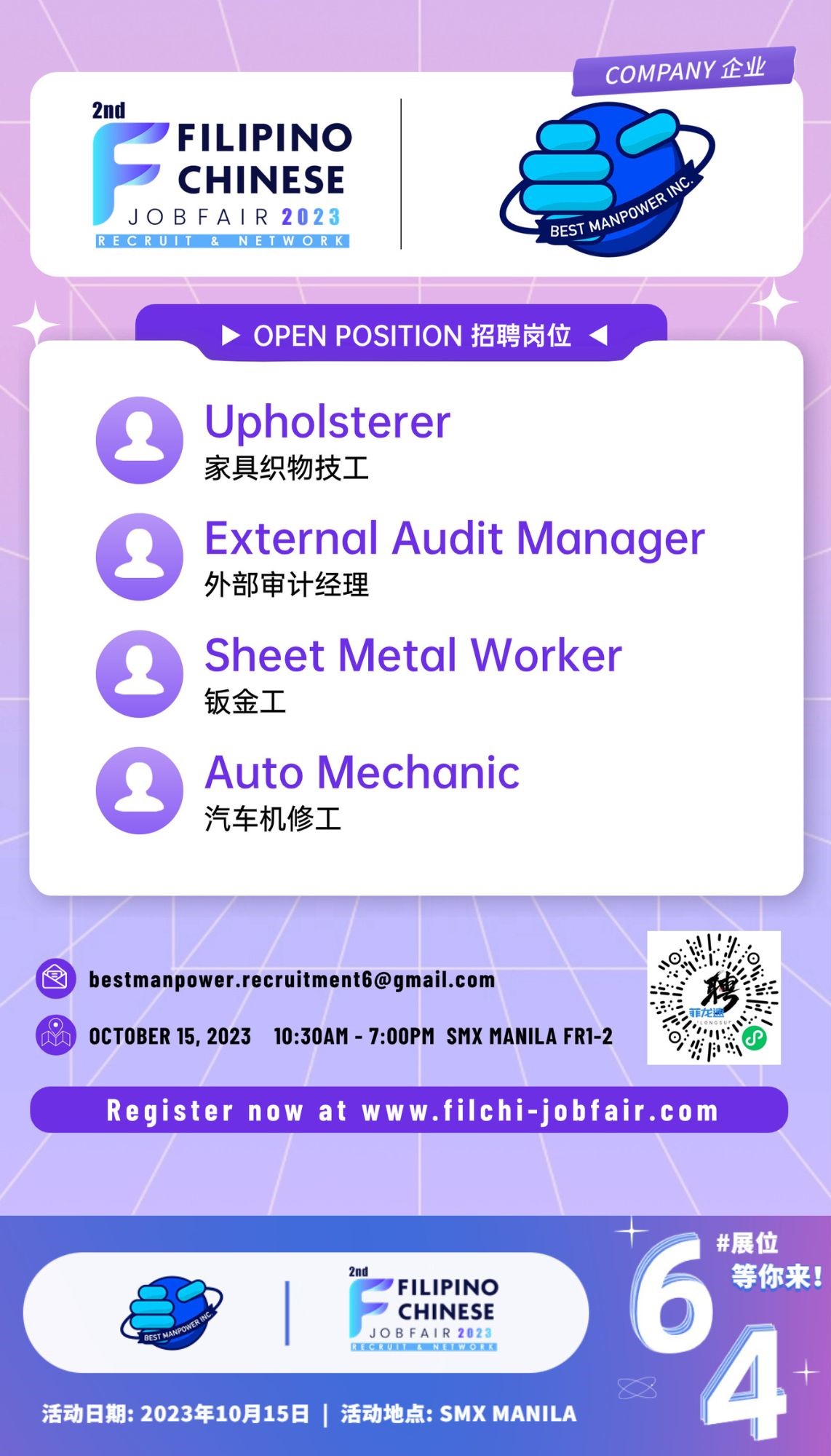 Best Manpower Inc. is a polling agency that was founded in 2019. It is a duly authorized manpower agency specializing in providing efficient Human Resource Support. BMPI offers a range of services, including contract recruitment, outsourcing, permanent and temporary recruitment, as well as bulk manpower recruitment in the Philippines. They are known for providing outsourcing manpower services to numerous employers or clients in various fields of professional and skilled manpower.
Their services include:
Recruitment Support
Employment Management
Compensation And Benefits
Human Resource Consultancy
Recruitment Opening:
Upholsterer 家具织物技工

External Audit Manager 外部审计经理

Sheet Metal Worker 金工

Auto Mechanic 汽车机修工
HR Email Address: recruitment6@gmail.com
Visit Best Manpower Inc.'s booth at the upcoming 2nd Fil-Chi Job Fair in Manila. Register now to attend the event for FREE!
https://www.filchi-jobfair.com/visit.html
2nd Filipino-Chinese Job Fair in Manila 2023 (菲龙网第二届菲律宾华人线下招聘会) is the most anticipated event of the year for jobseekers and companies alike! Whether you're looking to switch careers, connect with peers, or look for talents, the Fil-Chi Job Fair is the go-to event for you! See you on October 15, 2023!
For more details visit https://www.filchi-jobfair.com/
For inquiries and booth bookings:
Email: filchijobfair@flw.ph
Mobile: +63 966 637 6696
#filchijobfair #filchijobfair2023 #jobsph #RecruitmentPH #JobFairPH #Philippines2023 #hiring #HRPhilippines #菲律宾