Embrace Innovation with realme: Explore Exciting Career Opportunities at the 2nd Fil-Chi Job Fair in Manila 2023!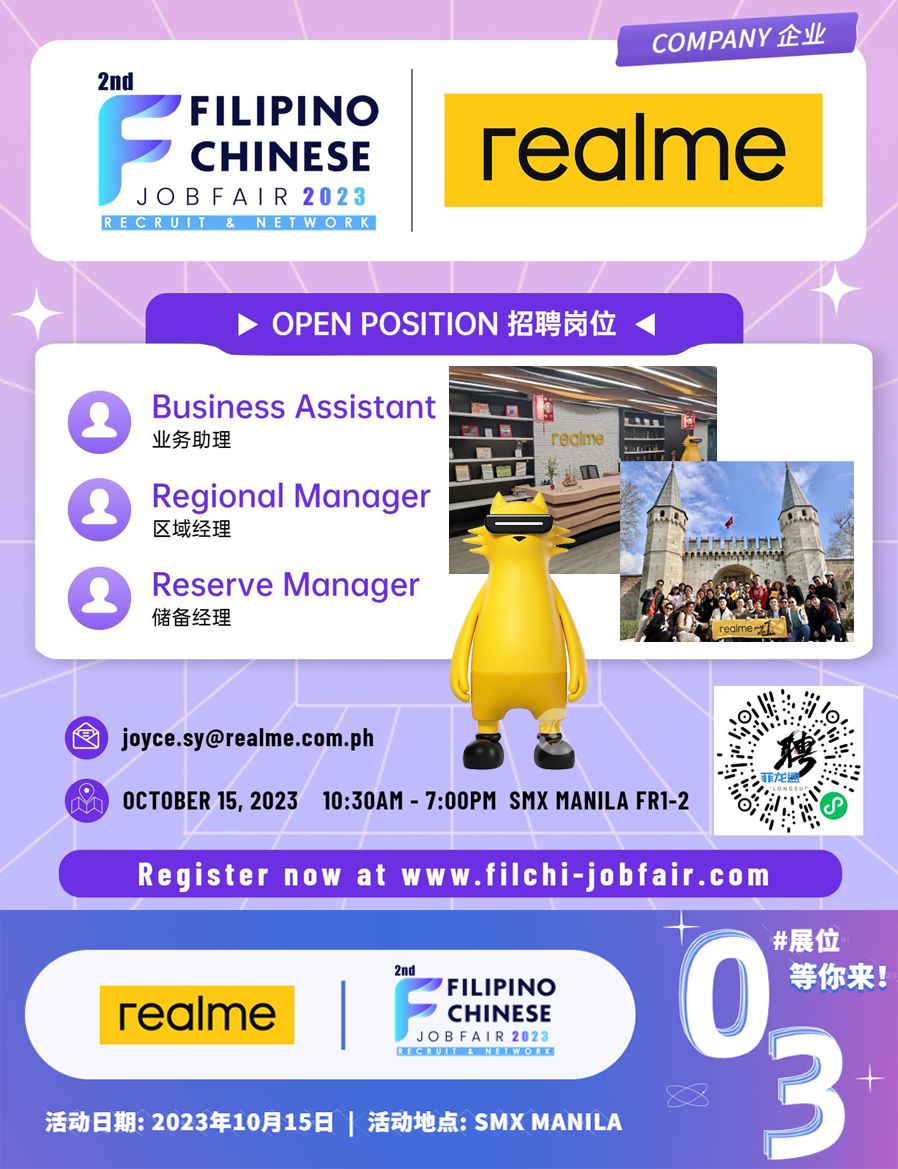 realme is a technology brand officially launched in the Philippines on November 18, 2018. Due to the abilities in cutting-edge technologies of smartphone and AIoT devices, realme offers products with top-notch quality and innovative features to deliver the best digital experiences to its users and fans. realme sells some of the most competitive and high performing smartphones focusing on sleek designs and light price tags for its consumers.
realme's vision is to become a healthier and more sustainable enterprise with the mission to let our extraordinary users enjoy the beauty of technology.
Company Environment: The company provides an awesome working environment that enables collaboration and teamwork. With the pleasant and welcoming ambience, it definitely fosters productivity among all employees.
Company Benefits and Activities: realme values the hard work of each individual, which is why they offer activities that employees can participate in. This would enable employees to enjoy, bond with each other, and have fun together!
Recruitment Opening
Management Trainee
Job Description
• Assist to oversee process and performance of company sales
• Represent current department to liaise with various departments
• Integrate data from various sources and prepare business report for decision-making
• Perform other related duties as assigned by superior.
Qualifications
• Must possess Bachelor's degree in any Business related course
• Highly proficient in Microsoft Excel (e.g. Pivot, Macro, Power Bi)
• Intermediate proficiency in speaking, reading, and writing Mandarin
• Excellent communication skills using English and Filipino
• Possess strong critical thinking, problem solving, and multi-tasking skills
• With positive attitude and strong sense of responsibility
• Must be willing to work in BGC, Taguig from Monday to Saturday
• Fresh graduates are welcome to apply
HR Email Address: joyce.sy@realme.com.ph
Visit realme's booth at the upcoming 2nd Fil-Chi Job Fair in Manila. Register now to attend the event for FREE!
https://www.filchi-jobfair.com/visit.html
The 2nd Filipino-Chinese Job Fair in Manila 2023 (菲龙网第二届菲律宾华人线下招聘会) is the most anticipated event of the year for jobseekers and companies alike! Whether you're looking to switch careers, connect with peers, or look for talents, the Fil-Chi Job Fair is the go-to event for you! See you on October 15, 2023!
For more details visit https://www.filchi-jobfair.com/
For inquiries and booth bookings:
Email: filchijobfair@flw.ph
Mobile: +63 966 637 6696
#filchijobfair #filchijobfair2023 #jobsph #RecruitmentPH #JobFairPH #Philippines2023 #hiring #HRPhilippines