Photolock Inc.: Pioneering Digital Printing Solutions and Career Opportunities at the 2nd Fil-Chi Job Fair in Manila 2023!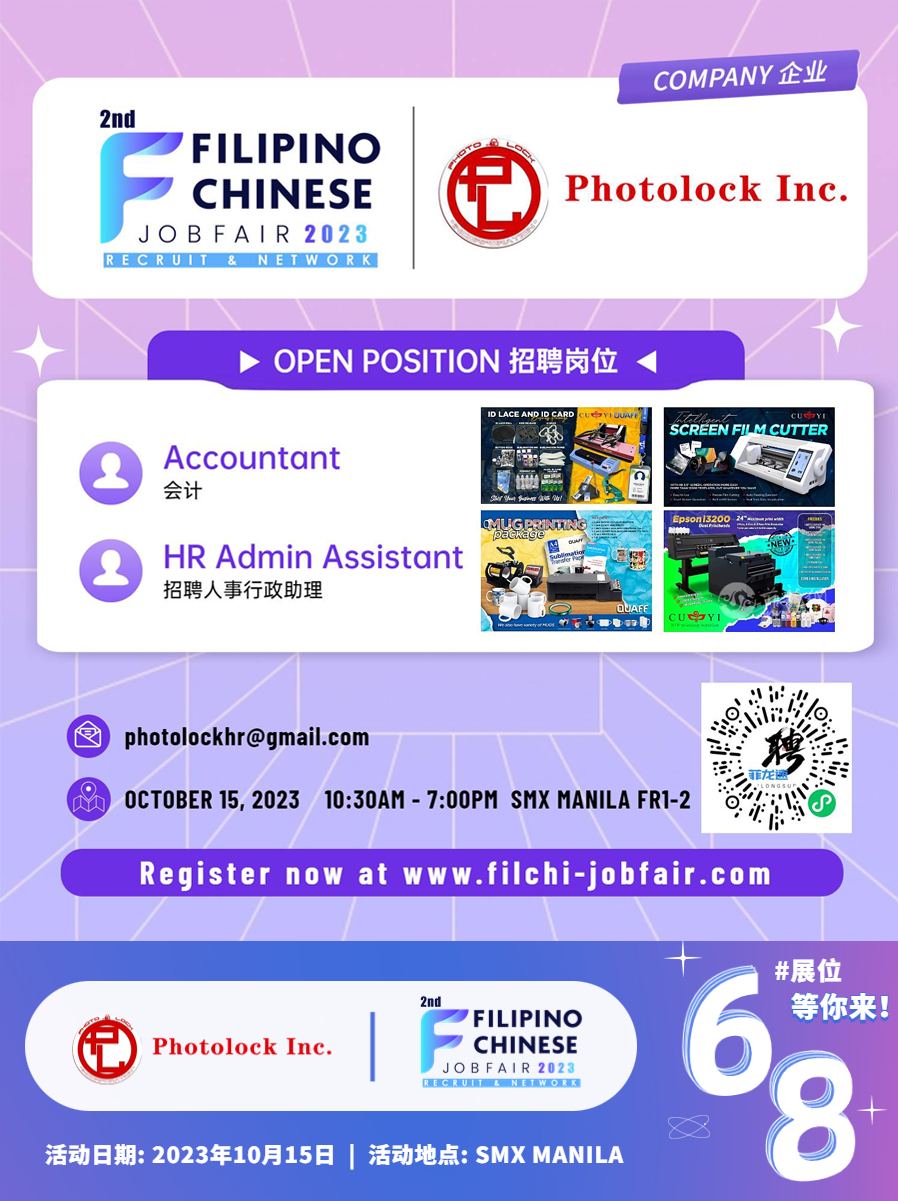 PhotoLock Inc. is a trading company, founded in 2005, headquartered in Manila, Philippines. Since its establishement, Photolock has been one of the largest and leading provider of digital printing products and services, offering retail and wholesale, good service and technical support.
It is mainly engaged in the operation of office supplies, such as providing digital printing, personalized heat transfer printing, office consumables and other related services.
Photolock aim to continuously provide advanced and cost-effective printing solutions, and is committed to providing customers with satisfactory pre-sales and after-sales services. The company's mission is to make good products that customers trust and provide employees with a broad career development platform so that their talents can be fully utilized. Photolock sincerely invite everyone to join their team and develop together with the company!
HR Email Address: photolockhr@gmail.com
Visit Photolock Inc.'s booth at the upcoming 2nd Fil-Chi Job Fair in Manila. Register now to attend the event for FREE!
https://www.filchi-jobfair.com/visit.html
The 2nd Filipino-Chinese Job Fair in Manila 2023 (菲龙网第二届菲律宾华人线下招聘会) is the most anticipated event of the year for jobseekers and companies alike! Whether you're looking to switch careers, connect with peers, or look for talents, the Fil-Chi Job Fair is the go-to event for you! See you on October 15, 2023!
For more details visit https://www.filchi-jobfair.com/
For inquiries and booth bookings:
Email: filchijobfair@flw.ph
Mobile: +63 966 637 6696
#filchijobfair #filchijobfair2023 #jobsph #RecruitmentPH #JobFairPH #Philippines2023 #hiring #HRPhilippines