Fullway Holdings Group, Inc.: Building Dreams, Building Futures - Your Path to Success at the 2nd Fil-Chi Job Fair in Manila 2023!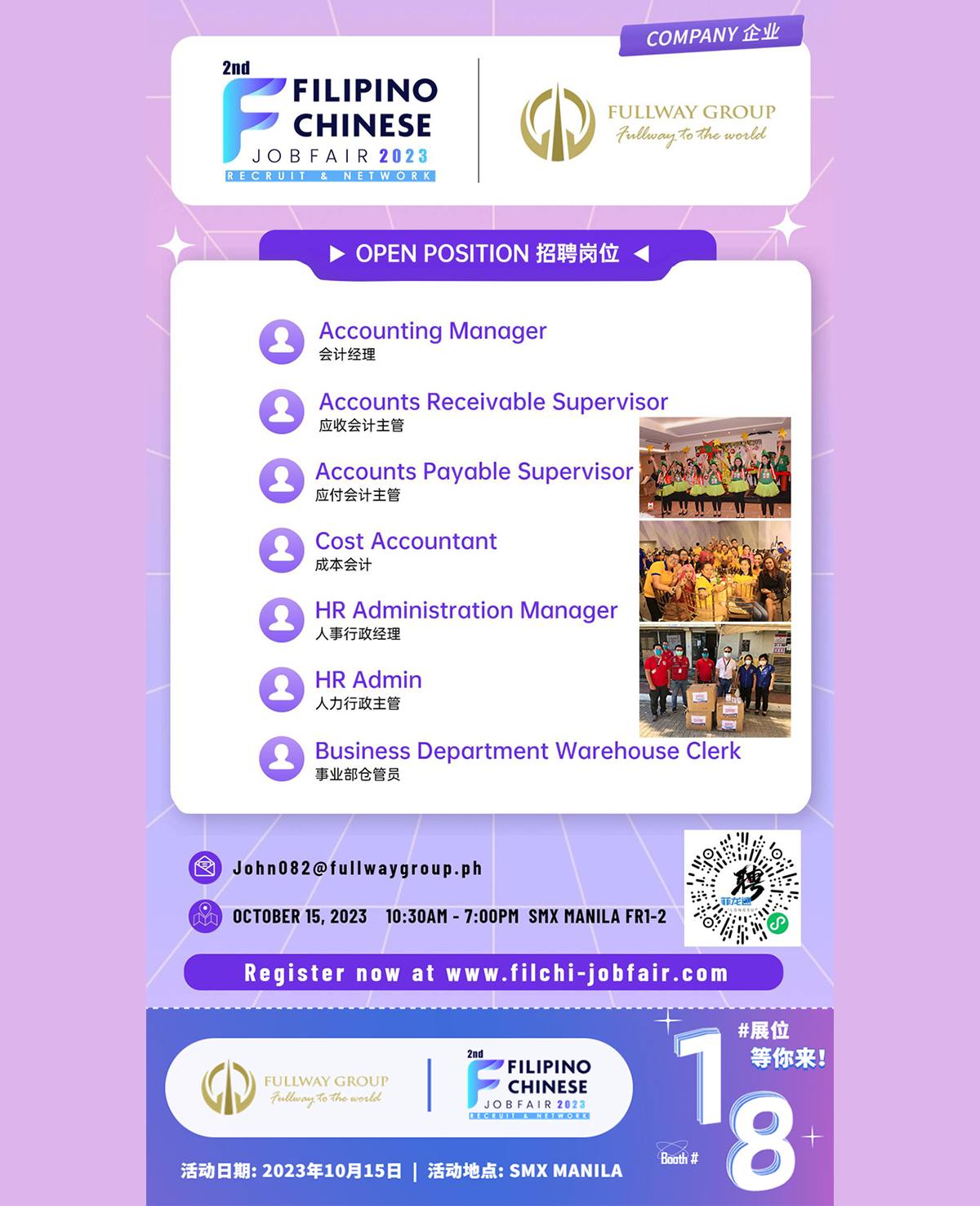 FULLWAY HOLDINGS GROUP,INC. (formerly known as Sany Steel Marketing), was founded in 2009 by father-son tandem Alex Lu and James Lu. Its main line of business is the wholesale of building materials (plywood, steel, cement, etc.) and grains (rice, etc.), and its other businesses involve manufacturing, real estate and investment, etc. It is now a well-known bulk trade enterprise in the Philippines, with the import volume of plywood ranking top in the Philippines, and the sales volume of various kinds of building materials among the biggest ones across the Philippines.
The group, persisting in the mission of "let consumers enjoy the real high-quality and low-cost products", and the business philosophy of "affordable, fast, mutual benefit and win-win", has been recognized by enterprise clients and individual consumers.
Headquartered in Manila, it has warehouses with a total area of nearly 10 thousand square meters in San Simon, Cebu, Iloilo, Cagayan de Oro, Davao and Bacolod. The group has more than 500 employees, hundreds of suppliers and more than 1,000 distributors.
Its self-owned brands such as Dragonply Plywood, Sahara WoodPlywood, Vicem Max Cement, Vicem Dragon Cement, and self-owned rice brand Masarap Grain Rice all have strong competitiveness in the market. In addition, the Sanjia-Steel Corporation invested by the group covers an area of 500 thousand square meters, with an annual output of 600 thousand tons of screw thread steel, which is the largest and most advanced steel plant in the local area.
In the minds of the father and son Lu, from ancient times to the present, "food" and "house" are integral to not only individuals and families, but also for country development. The family is the basic unit of a society and only when the small family is solid and warm, could the big family be stronger.
Committed to providing consumers with truly high-quality and low-price products, Fullway aims to be the leader of trading and manufacturing industry in the Philippines by bringing resources from all over the world, accelerating the expansion in the Philippines market, and actively adding business divisions.
HR Email Address: John082@fullwaygroup.ph
Visit Fullway Holdings Group booth at the upcoming 2nd Fil-Chi Job Fair in Manila. Register now to attend the event for FREE!
https://www.filchi-jobfair.com/visit.html
The 2nd Filipino-Chinese Job Fair in Manila 2023 (菲龙网第二届菲律宾华人线下招聘会) is the most anticipated event of the year for jobseekers and companies alike! Whether you're looking to switch careers, connect with peers, or look for talents, the Fil-Chi Job Fair is the go-to event for you! See you on October 15, 2023!
For more details visit: https://www.filchi-jobfair.com/
For inquiries and booth bookings:
Email: filchijobfair@flw.ph
Mobile: +63 966 637 6696
#filchijobfair #filchijobfair2023 #jobsph #RecruitmentPH #JobFairPH #Philippines2023